Shyness Machine Girl (The Hajirai Machine Girl)
(2009)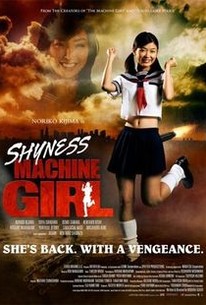 AUDIENCE SCORE
Critic Consensus: No consensus yet.
Movie Info
Ami's friend, Yoshie, was murdered and desecrated by the Kimura Gang. She was saved and like Ami, received modifications from the same mechanics. Remembering her past, Yoshie decides to avenge herself and Ami.
Critic Reviews for Shyness Machine Girl (The Hajirai Machine Girl)
There are no critic reviews yet for Shyness Machine Girl (The Hajirai Machine Girl). Keep checking Rotten Tomatoes for updates!
Audience Reviews for Shyness Machine Girl (The Hajirai Machine Girl)
I heard about this thanks to a review by Godsmack's Shannon Larkin on Bloody-disgusting.com. After her father commits suicide after being falsely accused of a murder, Ami looks after her brother, while also going to school. Somehow Ami's brother has racked up a debt to the son of a ninja-yakuza.Which being Ami's brother cannot pay his debt is killed along with his friend. Ami Seeks revenge and loses more than her brother. It was kitschy cheesy jap version of Kill Bill as far as I can explain. Bloody Tho not quite sure I'd call it a horror movie. The lead character wears a 'Sailor Moon' outfit (or so it reminds me of from the commercials of the cartoon) The movies is like a mash up of different movies (tho not an actual spoof) but there's parts that just look like i twas copied & pasted into this w/ different actors. Some of the acting is RREAL bad )(7 I don't mean that because the audio is the normal speak then you see the mouth move (my version had not subtitles) So not sure what was up with that. C
Kym (c my community profile) Ragarsson
Super Reviewer
Noboru Iguchi's Japanese gore flick, Shyness Machine Girl, is everything as advertised.
Spinning off of Iguchi's full feature length The Machine Girl, this 13 minute short flick focuses on one of the side characters. Is viewing The Machine Girl a requirement before jumping into this one? No, but for entertainment purposes it is a recommendation.
A low budget film, as this one is, comes complete with cheap effects and no award winning acting. What is its hook? The outrageous concept and storyline. The story is straightforward, thanks to the help of flashback scenes from The Machine Girl, while the dialogue states the obvious. The characters even talk to the camera at certain points.
The gore is extreme, but hilarious at the same time; therefore it provides as much chuckles as it does disgusted looks.
Noriko Kijima does as expected, which is look cute while blowing away bad guys. The rest of the cast is all overacting with their eccentric characters.
When all is said and done, Shyness Machine Girl is a brief dose of slapstick violence.
Shyness Machine Girl (The Hajirai Machine Girl) Quotes
There are no approved quotes yet for this movie.