Sideshow
(2000)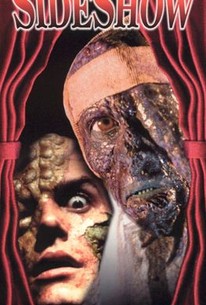 AUDIENCE SCORE
Critic Consensus: No consensus yet.
Movie Info
In this horror opus from director and cult hero Fred Olen Ray, a group of teenagers visit a travelling carnival and encounter the mysterious Dr. Graves (Phil Fondacaro). As Graves lures the unsuspecting visitors into his spell, they soon learn the horrible secret of just how he finds the human curiosities that populate the carnival's freak show. Jamie Martz, Michael Amos, and Jesica Keenan are among the hapless teenagers, and scream queen Brinke Stevens makes a brief appearance as Madame Voloasca.
Rating:
R
Genre:
Directed By:
Written By:
In Theaters:
On DVD:
Runtime:
Audience Reviews for Sideshow
½
Nothing too spectacular the film is basically like going through a freakshow with plot. Though the plot itself is rather thin and typical, it's an entertaining Full Moon flick with cheesy characters and fun effects.
Wes Shad
A B-movie horror, with all that entails. Yes, it has bad acting. Yes, the sets are limited. Yes, the story is unoriginal. Yes, the characters are stereotypes. Despite all that, I rather enjoyed it. This is the finest directing I've seen from Fred Olen Ray. The small role for scream queen Brinke Stevens was most welcome. The characters are told their fortunes, and those fortunes become reality. Not scary, but the effects are wonderful for such a low budget movie.
Don Schick
In Sideshow, five moronic youths attend the local carnival where some of them torment and hassle the carnies, including the creepy Dr. Graves (famous little person Phil Fondacaro), who runs the freak show that displays freaks like Bug Boy, Inside Out Woman, Digestina, and several others they think are fake, but are actually very real and sinister to the kids, who get what's coming to them one by one. As each are turned into freaks, we witness a bevy of bad acting, save for some of the veterans, like Fondacaro, Ross Hagen (The Phantom Empire), Brinke Stevens (Nightmare Sisters), and Peter Spellos (Slumber Party Massacre II), who manage to spice this silly film up a bit. No surprise, this is a Fred Olen Ray picture, who was asked to do this film by the Full Moon folks thanks to his many years of Carny experience...again, no surprise. Bad acting aside, we are still graced with the aforementioned notable genre icons, as well as some pretty fun-to-watch Gabe Bartalos (Brain Damage, Basket Case 1-3) special effects work. That alone was worth the rental of the film. The film also sports of a couple of nice titty shots, and some unintentional comedy that somehow made the film slightly more enjoyably. With Sideshow, I can only hope those renting it aren't complete fucktards and understand what they are getting themselves into. Fred Olen Ray pictures are not meant to stimulate the mind. In fact, they dumb down the mind incredibly, BUT, if you have a thirst for corny, low-budget Full Moon movies, then this one manages to minimally delight that thirst. There are much worse Ray AND Full Moon films out there after all.
Jason Duron
Sideshow Quotes
There are no approved quotes yet for this movie.