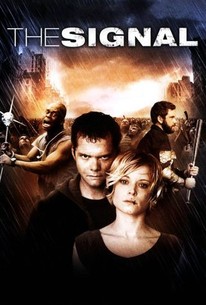 The Signal
2007, Horror, 1h 41m
70 Reviews
5,000+ Ratings
What to know
critics consensus
The Signal is gruesome, funny, and has big thoughts about society, but those disparate elements fail to come together convincingly. Read critic reviews
Where to watch
Rent/buy
Subscription
Rent/buy
Rate And Review
Movie Info
Mya (Anessa Ramsey) and Ben (Justin Welborn) are very much in love, but she cannot quite find the courage to leave her awful husband, Lewis (A.J. Bowen). However, when a mysterious transmission starts turning people, including Lewis, into murderous maniacs, the lovers must go on the run.
News & Interviews for The Signal
Audience Reviews for The Signal
[img]http://images.rottentomatoes.com/images/user/icons/icon14.gif[/img]

The Signal is a decent horror flick that had the potential of being a great film. The problem with this film is that it starts off promising enough, but halfway through it loses its strength, and becomes a decent flick. What could have been an effective horror flick is brought down by a weak second half. The film is watchable, but it could have been reworked a bit because there are some good ideas on-screen. The films cast do a pretty decent job here, and the plot is pretty interesting as well. The films faults lie in the second half of the film where it falls apart. I think it'\s a shame because this could have been a memorable horror flick with an effective plot. Unfortunately, The Signal leaves you wanting a bit more from the story, and as a horror film. This is a low-budget psycho Slasher film that almost gets it right. The script was good, but like I previously stated, if only there could have been a bit more effort put into the second half, it would have made The Signal a much more memorable ride. There are some elements that work well, but most of them don't quite get there. However you do see the potential of a very good horror film here, it's just too bad that some ideas fell flat. Overall a decent horror flick that is worth watching, but it leaves a lot to be desired as well. For a low-budget film, this is a decent try; if only the script would have been reworked a bit, then The Signal would have been a terrific film.

A creepy paranormal film.

*** out of **** A city, an apartment complex, a small household, the streets. It does not matter where you are: for the noise will catch up to you either way. "The Signal" is a frightening, ingenious independent horror film about mysterious transmissions that are communicated by radio and television broadcasts. It is also a story divided into three simple acts; each meant to say something interesting about human nature - with the overall message divided amongst several people. They're normal inner and outer city residents; living the good and decidedly normal life until strange colors and images start to invade their flat screens. It isn't long before their neighbors and close friends go mad and embark on little individual killing sprees. To me, there isn't much sense in me describing all three acts of the movie in extreme detail; so I'll just tell you how it all goes down. As the movie begins, we meet a blonde woman named Mya who is cheating on her husband Lewis (A.J. Bowen) with a skinny tattooed guy named Ben (Justin Welborn). She returns home after spending part of the night at his place, only to find Lewis and his friends fretting over the images that grace the screens of their televisions. We're told that the game was on; but now, there is no game. It doesn't take long for Lewis to become delusional and unreasonably pissed off (usually about ridiculous things), and at that, he kills one of his friends, while the other one (a black dude, of course) escapes. Mya also flees the scene and meets up with that very black dude, although it's safe to say that they're not together for long; even though it is worth mentioning that he has a cool little home-made weapon that he uses to slay the crazies. Another segment focuses on a suburban home, where a whole lot goes down. The house belongs to a woman named Anna and her husband, who she has killed after he caught on to the crazy virus thingy. This is a shame, for they were planning a big New Year's Eve party with a lot of people planning to attend, and many decorations already set up. But now, there are more serious matters at hand; and Lewis arrives at the house (as does a neighbor named Scott, played by Scott Poythress) with a tank full of insecticide, which he uses to blind his victims. This is sort of an intriguing part of the movie, since it deals with a number of different tones. While in the house: there is dark and deadpan comedy, gruesome horror, discreet social satire, and relentless apprehension. It's both humorous and scary; because to me, the situation feels real, and so do a good number of these people - whether the movie intends for them to be objects for satire or not. The problem that critics seem to have with the movie is the fact that perhaps it is attempting to tackle too much at one time and try too many things at once. Indeed it is; but rather than scoff at how uneven and absurd it gets in some instances, I was left intrigued and satisfied. It's a brutal, diabolical experience of a movie, and while it may not be perfect, it has some welcome human touches laced with aspects of comedy and genuine terror. It may not be as original as it wants to be either; but oh, what the hell. This is still a damn engaging movie. Made on a relatively low budget of only $50,000 and shot in just thirteen days; the work that went into "The Signal" is pretty darn impressive. For an indie outing, I'd say it's nicely played, and for me it works. There are some clever moments where the influence and inspiration to make the film shines through; such as one where the black dude's decapitated head is brought back to life a la "Re-Animator". True, not all the scenes are particularly memorable, but almost all of them are worth praising. There is suspense, there are scares, and there's also some decent human drama. I never found it absolutely compelling - or even emotionally resonant - but the movie makes it its job to scare us, and it does that quite well. Just try to forget the fact that it kind of resembles a Stephen King novel with a similar premise, and you will probably be alright. But then again...maybe not. The actors are convincing, and the direction from the visionary threesome - David Bruckner, Dan Bush, and Jacob Gentry - is suitably riveting. For something that cost so little to make, it does a whole lot more than what most Hollywood horror movies do. That's saying something; given that I'm not one to just dismiss every Hollywood horror production that comes along. I am accepting and open-minded, always willing to have fun when fun does indeed come my way, but nowadays; the independent films are taking the world by storm, and "The Signal" skillfully feeds the need for unforgiving and savage entertainment. One moment bleak and another breathtakingly intense; if this is what someone can do with a handheld movie camera, I'd think our future is a whole lot brighter than we initially thought. You know, as long as the movie doesn't imitate life.
See Details