The Silence Before Bach (Die Stille vor Bach)
(2007)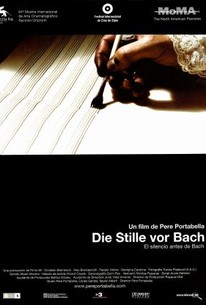 The Silence Before Bach (Die Stille vor Bach) Photos
Movie Info
Looks at the profound relationship between image and music where the latter is not merely conceived as subsidiary to the image but as a subject of the narration in its own right. It springs from a previously defined musical structure, and the soundtrack feeds on works by J.S. Bach and two of Felix Mendelssohn's sonatas; a promenade through the 18th, 19th, 20th and 21st centuries led by the hand of J.S. Bach.
Rating:
NR
Genre:
, ,
Directed By:
In Theaters:
Runtime:
Studio:
News & Interviews for The Silence Before Bach (Die Stille vor Bach)
Critic Reviews for The Silence Before Bach (Die Stille vor Bach)
Audience Reviews for The Silence Before Bach (Die Stille vor Bach)
The moment the film presenter said "the movie is plotless" i knew I was in trouble. I can't really say anything else besides what terrible tribute (or lack of) it made to Bach. People even fell asleep during the screening. Let's spare the shockingly painful details and skip to the part where...well, I say the movie sucks.
Felipe Bravo
[font=Century Gothic]"The Silence Before Bach" is a partially successful attempt at showing the journey that the music of Johann Sebastian Bach(1685-1750) has made from the 18th century to the present day, as displayed in a series of vignettes starting and ending with a player piano. In fact, there are a wide variety of musical instruments used in this film including a harpsichord(which I've always liked the sound of), a kickass organ, a wind instrument, a harmonica and cellos played on a subway train. [/font] [font=Century Gothic]The journey started with Bach working as a cantor in a church in Leipzig, so it may not be a surprise that the one continuing thread throughout is the importance of religion in his work, even in this thankfully more secular age. For example, one character drives a truck cab decorated with Virgin Mary's on the side. While seamless transitions happen throughout, a graceful segue from one definition of passion to another is particularly of interest. But the one element missing is the creative spark. And if you say that it is divine, I will scream.[/font]
The Silence Before Bach (Die Stille vor Bach) Quotes
There are no approved quotes yet for this movie.