Silenced (Do-ga-ni)
(2011)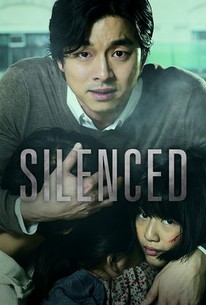 AUDIENCE SCORE
Critic Consensus: No consensus yet.
Movie Info
Director Hwang Dong-hyuk takes the helm for this emotionally charged drama based on a shocking true story of the vulnerable young students at a school for the hearing impaired who were sexually molested by the people they trusted most. Over the course of four terrible years, the principal and some key faculty members at the school took advantage of their special-needs students in the worst way imaginable. This is the story of the students who suffered, and difficult quest to bring their abusers to justice.
Critic Reviews for Silenced (Do-ga-ni)
All Critics (4) | Top Critics (2) | Fresh (4) | Rotten (0)
Although the film ultimately achieves its function to expose deep-rooted and far-reaching social injustice,its visceral representation of harrowing and morally repugnant scenes remains unnerving and questionable.
The good that "Silenced" has done certainly outweighs its flaws, but there are certainly some of those: character and plot tropes that pad out the story but have little to do with it.
November 3, 2011 | Rating: 2.5/4
Unsettlingly graphic but important exposé of the abuse of hearing-impaired children in Korea stirs the emotions in the most elemental way.
Audience Reviews for Silenced (Do-ga-ni)
One of the skeletons that fell out of the closet. Not a gripping tell-tale here, but not excessively boring either.
familiar stranger
Super Reviewer
This is a good movie, almost very good in fact. The problem, and this is a problem with a LOT of Korean movies is that, at the end, it devolves into sheer manipulation and melodrama to guide your emotions. As if the story wasn't already strong enough emotionally to where you'd feel the need to do this. Ultimately the melodrama isn't as bad as in other Korean movies. For example Lifting King Kong, a movie not available to review on this site. The last 20-25 minutes of that movie involved every important character sobbing their eyes out non-stop. This really went on for 20+ minutes and it completely negated the rest of the movie, which wasn't that bad until those last moments that made the movie, overall, terrible. There's nothing worse than a movie very obviously trying to guide you through what you're supposed to feel at a certain moment like I'm a retard. Thankfully this movie doesn't go THAT far, but it still does some of it. But thankfully what the movie does good it does really well. The movie is definitely very unflinching in its portrayal of child abuse and sexual molestation and the injustice that goes along with that when you're someone who has the connections to manipulate the system. It's definitely not pretty to watch. Then again it shouldn't have been if you wanted to tell this story effectively. The acting, especially, and most surprisingly, by the kids, was top-notch. I have no idea who these kids are or if they're even ACTUALLY deaf, which I doubt, but they did an excellent job nonetheless, without ever saying anything. The lead actor was also good, but he only had one chance to really go all out and it's during the most melodramatic scene in the film so there's that. The movie is also pretty beautifully shot. So really while it does have its flaws, it's still a pretty good film, but you wouldn't be missing much if you chose not to watch this film. Which is unfortunate to say since it is a story that deserves to be told but you should rather read up on the case the movie was based on instead, you'd get just as much, if not more, than you would watching this movie.
Jesse Ortega
Super Reviewer
Silenced (Do-ga-ni) Quotes
There are no approved quotes yet for this movie.