Silences of the Palace (Saimt el Qusur)
(1994)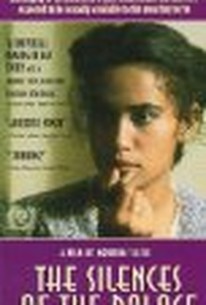 AUDIENCE SCORE
Critic Consensus: No consensus yet.
Movie Info
Alia is born to serve men. Her mother is a servant in the palace of the Bey--dispensing food, and her body, to the royal princes of Tunisia. As Alia, now a singer in post-colonial Tunisia, looks back at her childhood in the palace in the 1960's, she must come to terms with the meaning of her mother's life and the tradition of bondage she's attempting to escape.
Rating:
NR
Genre:
,
Directed By:
In Theaters:
Runtime:
Critic Reviews for Silences of the Palace (Saimt el Qusur)
Audience Reviews for Silences of the Palace (Saimt el Qusur)
Amazing camera work in this compelling tale of the servants in the house of Tunisian nobles as their power begins to fall apart.
Michael Toler
½
[img]http://www.bostonphoenix.com/boston/movies/reviews/images/03679088.gif[/img] Upon the invitation of a friend at work, I went to see this movie last Saturday, and was greatly impressed. I knew nothing about the world I was about to see, other than that it was set in the 50s during the wars for independence that were going on in North Africa at the time. I knew about the war in Algeria that lasted for many years, claimed many lives, and whose impact is still felt today in France, but I didn't really know anything about what happened in Tunisia. The movie opens with an extreme closeup of a beautiful woman singing in Arabic. The closeup lasts longer than you think it will, and it seems like the camera reluctantly pulls away as she suddenly stops singing in the middle of a song, and we see that she is the singer at a wedding reception. This chosen silence is one of many throughout the movie, hence the title, [i]The Silences of the Palace[/i]. What I really liked about the movie was the seamless back and forth of the present action and the flashbacks. Alia, the main character, goes back to the palace where she grew up, the palace where her mother served the Bey, or prince. As she visits different rooms and finds various objects from her childhood, such as a lute, the audience is drawn into how Alia tries to reconcile her present life with her past, and with the life her mother led. This isn't an easy movie to watch...Alia's mother endures humiliation and sexual abuse, and the way that she tries to protect her daughter as she blooms into womanhood is heartbreaking (there's a picture of them above). What Alia makes of her mother's silence, both her refusal to tell Alia who her father really is and her inability to articulate her anger and fear in any way except by hurting herself. The only criticism I can make is that some of the flashback scenes couldn't possibly have been witnessed by Alia...it is established from the beginning that all the flashbacks are from Alia's point of view, so the conversations between some of the other servants when Alia is sick in bed don't exactly make sense. But this is a minor quibble as these conversations do give further glimpses into the hierarchy established between the downstairs servants and upstairs nobility (and thinking about it now, it sort of reminds me of the British hierarchy), along with the parallel of the class struggle as the country finds its independence. But does Alia "find her voice" and independence at the end? Is Tunisia better off after finding independence from France? Watch the movie and decide for yourself. Now I would like to see Moufida Tlatli's more recent movie, [i]La Saison des Hommes[/i] (The Season of Men). I spoke with Ms. Tlatli after her Q&A that followed the screening, and she was very gracious in answering my questions along with my friend Will's questions. I also overheard some of her conversations in French with another woman and translated for Will -- one thing that was particularly interesting was the fact that she feels that her husband's family in Tunisia still look down on her because she is a filmmaker, though nothing is directly said about this. She says that the view of singers and actresses has improved (they were considered equal to prostitutes in the 50s), but very slowly. This is one movie that reminded me of how lucky I am to be a woman with the liberties and choices that we have in this country. But this is by no means a "chick flick" -- it's a movie that is human and compelling in every way.
Sheila Espineli
Discussion Forum
Discuss Silences of the Palace (Saimt el Qusur) on our Movie forum!
News & Features