Silent Night, Deadly Night 5: The Toymaker
(1991)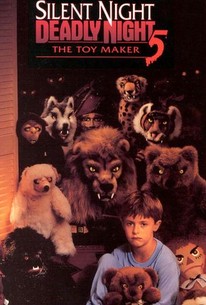 AUDIENCE SCORE
Critic Consensus: No consensus yet.
Silent Night, Deadly Night 5: The Toymaker Videos
Silent Night, Deadly Night 5: The Toymaker Photos
Movie Info
In this horror film, malicious toymaker Joe Petto (Mickey Rooney) and his creepy son, Pino (Brian Bremer), terrorize the residents of a small town with the deadly toys they create. After her husband is killed by one of Petto's toys, Sarah (Jane Higginson) and her troubled son Derek (William Thorne) set out to stop the evil toymaker.
Critic Reviews for Silent Night, Deadly Night 5: The Toymaker
All Critics (1) | Fresh (0) | Rotten (1)
Junky direct-to-video pap, and only the fact that it does, for a brief spell, involve a murderous Santa Claus gives it any sort of leg up over the other films in its series.

Audience Reviews for Silent Night, Deadly Night 5: The Toymaker
½
Not as bad as 4, but certainly not good by any stretch of the term, Silent Night, Deadly Night 5 manages to be a final, relatively entertaining piece of horror cinema. Calling it a slasher film is somewhat mislead, and--like 4--it differs radically from the first three. More like an evil toys movie (Puppetmaster, Dolls, Demonic Toys, etc.), SNDN 5 features Mickey Rooney, of all people, as a seemingly kind toy store owner who might harbor a dark secret. Clint Howard, again (as in 4), inexplicably reappears as Ricky from SNDN 2, bearing no resemblance to the original character. Stupid, unnecessary, and predictable, SNDN will entertain fans of 80s/early-90s horror who have seen everything else decent and need something new to watch.
Al Miller
½
Another pointless and unrelated sequel, but at least this time it's a bit more Christmas themed. The effects aren't great, and there's not a lot of killer toy action, but the story is somewhat interesting. Characters are a bit boring, but the whole Pinocchio thing was a decent concept. The ending could of been better, but overall it's not entirely bad, although it doesn't need to be a Silent Night sequel.
Wes Shad
Awful fifth film in this tiresome series, where the only good film was the first. This film relies on a different angle for its plot, but doesn't work for the audience's advantage. The series ends on a terrible note, and it's no surprise because this is the fourth sequel and it's clear that the filmmakers have run out of ideas, and are overdoing everything in trying to deliver a mindless horror yarn. This is a bad film in every sense of the word. I really don't see why they kept the series going. This is lazy filmmaking and you can see the result on-screen, the film just isn't interesting, fun or entertaining. This is a poorly crafted horror film, and considering that this was straight to video, it's no surprise as to why this film is bad. Fans of the first Silent Night, Deadly Night will be disappointed with this one as this is just another run of the mill dud that doesn't do anything new or original with its material. I liked the original, but the sequels are just horrible films with no direction. This fifth film just doesn't have anything going for it. This is thankfully the final entry in this series. This is just a stupid, tiresome film that is more boring than entertaining. Avoid it, and stick with the original, at least that was a good film. This one just fails on so many levels, that you ask yourself what you were watching. This definitely not worth your time.
Silent Night, Deadly Night 5: The Toymaker Quotes
There are no approved quotes yet for this movie.
Discussion Forum
Discuss Silent Night, Deadly Night 5: The Toymaker on our Movie forum!