Silent Night, Deadly Night 4: Initiation
(1990)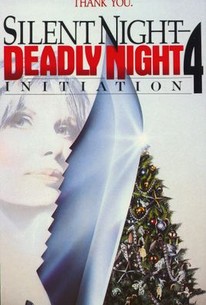 AUDIENCE SCORE
Critic Consensus: No consensus yet.
Silent Night, Deadly Night 4: Initiation Videos
Silent Night, Deadly Night 4: Initiation Photos
Movie Info
In this horror film, the murderous Ricky returns under the control of a cult of demon-possessed women, who use the killer for their own evil means.
Critic Reviews for Silent Night, Deadly Night 4: Initiation
All Critics (1) | Fresh (0) | Rotten (1)
The atmosphere is so pervasively "low budget L.A." that it never ceases to feel like the exact thing it is, a chintzy DTV movie.

Audience Reviews for Silent Night, Deadly Night 4: Initiation
So what's the message here? That women can't accomplish anything without a man or resorting to witchery? That if they show a little initiative they just succeed in getting everyone they know killed? Congrats filmmakers, you've reached new heights of misogyny! And just when exactly did Kim agree to join the coven? Last I checked, the whole becoming a witch thing involved a conscious choice to give one's self to Satan. I don't think walking into a bookstore counts. If so, watch out Barnes & Noble shoppers. Apparently you're doomed to damnation!
Vincent Pesce
½
The relation between Silent Night, Deadly Night 4 and the rest of the series is tenuous at best. Instead of a Christmas-themed slasher film, SNDN4 is supernatural horror film that revolves around a young woman inadvertently getting caught up in a coven of demon-worshiping witches. Ricky, from SNDN2, does reappear as a pawn of the witches, but it is never really clear how Ricky transformed from the twenty-something beefcake of SNDN2 into Clint Howard. Dumb, dumb, dumb, SNDN4 is one of those sequels that they obviously just slapped the label on to capitalize on the series' fame.
Al Miller
Fourth film in this series omits the killer Santa which made this series infamous. This is yet another awful entry, and in seems the series keeps on going, the more awful the films become. This is yet another bad sequel to a series that never should have happened. This film is a misfire and ends up feeling tedious. This fourth entry shows us one thing, the lack of an effective idea that could make up a good horror film. This is a poorly constructed affair that just doesn't deliver. This is just a waste of time with nothing new to offer viewers. It's all the same bad ideas we've seen in the previous two entries, and it just falls flat. Brian Yuzna's directing is mundane and flawed. This film just doesn't have anything interesting going on to make it worth watching. The actors look bored an uninterested in doing the film, and the dialogue is cheesy, stupid and pointless. Even by Slasher film standards, this one is pretty bad. The story just doesn't have any substance. This is yet another unnecessary sequel to a Slasher film that didn't need sequels. If you're a diehard fan of the films, this one may appeal to you, but for the common Slasher fan, pass up on this, as it offers nothing new or original to the story of the series, thus it's one that should be avoided due to a bad plot, bad acting, directing and poor production values. This one is just a lazy horror film that fails to deliver good old fashioned entertainment.
Silent Night, Deadly Night 4: Initiation Quotes
There are no approved quotes yet for this movie.
Discussion Forum
Discuss Silent Night, Deadly Night 4: Initiation on our Movie forum!