Silent Running
(1972)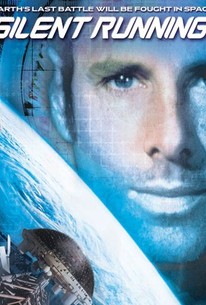 Movie Info
Bruce Dern stars as the caretaker of a greenhouse located on a group of space stations that are sent into orbit. The Earth has been stripped clean of foliage, and the greenhouse contains the last remaining greenery from the planet. Dern's staff includes three human beings and a trio of endearing robots named Huey, Dewey, and Louie. When word arrives, from the powers that be, that the greenhouse is to be destroyed (the space station is more valuable to man when hauling cargo and not "preserving the ecology of the universe"), Dern decides to ignore the order. He also decides to go it alone, "circle the wagons" with his robots, and fend off all outside attempts to eliminate his ecological paradise. Special-effects maven Douglas Trumbull directs, Michael Cimino was one of the screenwriters, and Peter "PDQ Bach" Schickele wrote the musical score.
Critic Reviews for Silent Running
Audience Reviews for Silent Running
½
A thought-provoking science fiction that may feel dated today even with its good visuals but raises interesting philosophical questions about solitude, the value of life and what it is like to risk everything for a conviction - which outweighs the ecological message intended.
Carlos Magalhães
Super Reviewer
½
Ma Earth can no longer grow food after we pollute the bejesus out of her and so we build a greenhouse in space to preserve the idea of growing food. "Ahhh, its only a knucklehead idea anyway. What were we thinking? We got synthetic food, don't we? Close it up!" Bruce Dern is the idealist who fights the powers-that-be in this not-too-far-from-hippie sci-fi horror story. The action's okay is all. There's terrible bits of Joan Baez singing that'll make you put the work end of a shotgun in your mouth. Eh.
Kevin M. Williams
Super Reviewer
½
Silent Running is an entertaining and exhilarating Sci Fi classic with a great cast and a good story. The film is quite engaging, and the effects are well done and like 2001 before it, have influenced the genre. Bruce Dern is great in the lead role, and this ranks up there as one of the finest examples of 1970's Sci Fi. Of course Star Wars would reinvent the genre altogether, but you simply can't deny that Silent Running broke ground in terms of effects. Though not a perfect film, Silent Running will certainly please genre fans. The idea behind its story is quite simple, but the execution is well done, and it would later set the stage for future genre films. Dern like I said is good here, and he holds things together. If you're expecting an action packed thrilled ride, you'll be disappointed. This is more of a Sci Fi drama, but it it's quite entertaining nonetheless. Silent Running is a must watch for genre fans, or anyone looking for a classic Sci Fi film that has a well structured story. Enjoyable, but slow paced, Silent Running is one of those films that you need a few viewings to get into. The film stands out as a great genre film, one that helped shape the genre for what it is. Even if it's not a great movie, it's still a Sci Fi classic for what it helps achieve in terms of ideas and concepts in the genre. Sure, it may be tedious at times, but it definitely is worth seeing if you love this genre of film.
Silent Running Quotes
There are no approved quotes yet for this movie.