Silent Tongue
(1994)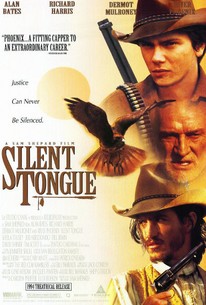 Movie Info
Playwright Sam Shepard wrote and directed this bizarre combination of western film revisionism and Greek tragedy. Silent Tongue (Tantoo Cardinal) is a mute Kiowa who is raped by Eamon McCree (Alan Bates), the owner of the Kickapoo Traveling Medicine Show. Eamon attempts to make up for his crime by marrying her, hoping for forgiveness. Instead, Silent Tongue enacts a bitter retribution through her two daughters, Awbonnie (Sheila Tousey) and Velada (Jeri Arredondo). Awbonnie, as the film begins, has already died, but her grieving husband Talbot (River Phoenix) refuses to let her go, dragging around her corpse. To assuage Talbot, his father Prescott (Richard Harris) sets out to purchase Velada from Eamon, thinking that only Awbonnie's sister can replace her in Talbot's eyes. But Velada's half-brother Reeves (Dermot Mulroney) protests the attempted transaction. As a result, Prescott kidnaps Velada and flees, with not only Reeves and Eamon chasing him, but also Awbonnie's ghost.
Critic Reviews for Silent Tongue
Audience Reviews for Silent Tongue
All he needs is a voice. Talbot is a man who can't handle the death of his Indian bride and sits under a tree waiting for his death to join her. His father, who made a trade for the Indian bride, seeks the bride's sister in hopes that she can snap his son out of it. The sister reluctantly agrees to help the father but they have no idea how gone the son will be when they finally reach him. "She's just going to die on you...just like I did." Sam Shepard, director of Far North, delivers Silent Tongue in his second major motion picture. The storyline for this picture was just okay and kind of cliché for the genre, but the settings and cast are above average. The cast includes River Phoenix, Alan Bates, Richard Harris, Bill Irwin, and Dermot Mulroney. "The whole prairie is thirsting for our women." I came across a few River Phoenix movies on Netflix and decided to add all of them to my wish list. This was a very average and mediocre addition to the western genre and did not display Phoenix's talent, in my opinion. There really isn't much to see here and I'd probably skip this movie unless you're a fan of the Phoenix. "Their dogs will be eating our testicles by nightfall." Grade: C-
Kevin Robbins
I KNOW there is a good movie lurking-around somewhere in this poorly edited film . . . River's Last (aside from DARK BLOOD) would somebody release the footage from Dark Blood please?
Gordon Terry
With name recognized actors and a western setting, I was ready to love this movie. Instead of the darkly enticing movie I was hoping for, I got this boring, poorly acted morass of Native American legend and old west morality. A movie that tarnishes the memories of Harris and Phoenix and one that Mulroney should wish he could erase from his filmography.
Don Schick
Silent Tongue Quotes
There are no approved quotes yet for this movie.
Discussion Forum
Discuss Silent Tongue on our Movie forum!