Silent Venom
(2009)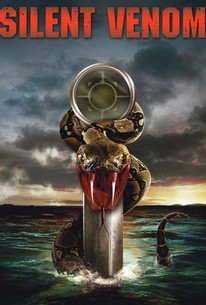 AUDIENCE SCORE
Critic Consensus: No consensus yet.
Movie Info
The only thing more terrifying than Snakes on a Plane is "Snakes on a Submarine," and that's exactly what we get in this claustrophobic, sub-aquatic thriller starring Luke Perry. Lieutenant Commander O'Neill (Perry) was piloting a retired submarine to its final port when Admiral Wallace (Tom Berenger) diverted the crew for one last mission: rescue an imperiled army research team before they meet a watery death. In order to reach the researchers and their top secret cargo while avoiding detection by a hostile enemy fleet, Lieutenant Commander O'Neill orders his crew to "run silent" in the depths. That silence is soon broken, however, when the cargo proves to be two genetically altered leviathans. Now, far beneath the ocean floor, a new kind of predator emerges to prove just how vulnerable man truly is when there's nowhere left to run. ~ Jason Buchanan, Rovi
Critic Reviews for Silent Venom
Audience Reviews for Silent Venom
Lacking the tongue-in-cheek nature of Snakes on a Plane and taking itself more seriously than most Holocaust-based films, Silent Venom is filled with wooden performances, cheap production design and yawn-inducing action, with Mark Sanderson's laughably illogical screenplay as the least of this movie's problems. Then again, if 6-8 snakes lying together on a set floor, doing absolutely nothing other than just sit there, is your idea of an unbelievably frightening movie, then you'll have a ball with this. Full review at http://silverscreenfanatic.com/2014/11/03/what-the-hell-were-they-thinking-44/
Benjamin Marlatt
½
Esstentially "Snakes on a Sub" (the vehicle, not sandwich), this movie is about as good or bad as you imagine it is, which is my way of saying it is entirely middle of the road.
Bobby LePire
n the same vein as Anaconda and Snakes on a Plane, Silent Venom takes familiar actors and throws them in a sci-fi snake plot that always ends the same. What sets Silent Venom apart from its influences is the simple fact that majority of the movie takes place underwater mixing in drama of living in a submarine and being in enemy territory. This 20th Century Fox produce film stars Luke "Squinty Eyed 902101 Guy" Perry and Krista "I make awkward sexual glances" Allen as the main leads of the movie. Story wise Silent Venom is a standard made for TV sci fi snake movie taking the danger of enclosed spaces with poisonous snakes from Snakes on a Plane, the threat of some super snake from Anaconda and places them completely underwater. What the movie does good with the story is actually making the poisonous snakes a threat but completely drops the ball with working in the super steroid snakes that feel as if they were just attached onto the script last minute to add a "sci fi" element. The movie as a whole doesn't try to take itself too seriously but doesn't try to aim for total cheeseball spoof. It instead manages to stay in the center between average and awful. Some of the entertaining moments in the film were the possibly forced sexual tension scenes between Luke Perry and Krista Allen. They came out to be so awkward that the awkward moment turned into an even more awkward moment by not knowing what to do with itself to the point where one more glance coupled with a 70s porno line would have put it in the territory it seemed to be heading. All in all the awkward scenes felt like the end of a bad date where you walk the girl up to the door and get caught in a half hand shake half hug scenario. The glaring problem besides the forced ending ripped out of the 80s was the horrible CGI. The horrible CGI with the Aggro-Snakes could have been cut from the movie completely and it still would have worked with normal poisonous snakes. Speaking of horrible towards the beginning the military officer speaking to Krista Allen over a wi-fi setting was missing one thing. WEB CAMS. The movie forgot we are in the year 2009 and left the computer technology in the pre-Hackers era. All they had to do was run to Best Buy and buy some cheap web cams to at least make it seem like Krista Allen and unknown military officer guy weren't screaming into their computer. Should you watch this film? Not in theaters or and don't buy it yourself. If you are bored, have nothing to do, and there is nothing on TV, check the movie out. You'll be entertained for a few minutes too long. Other than that this movie is just a rehash of themes and plot points seen in other sci fi snake movies that do it worse.
Rob S
Silent Venom Quotes
There are no approved quotes yet for this movie.
Discussion Forum
Discuss Silent Venom on our Movie forum!