The Simian Line
(2000)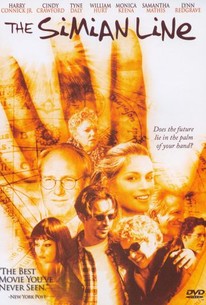 Movie Info
Director Linda Yellen spins this study of four couples as they struggle to maintain their relationships. Middle-aged divorcée and landlord Katharine (Lynn Redgrave) is completely smitten with her live-in lover Rick (Harry Connick, Jr.). She loves throwing parties, and on one Halloween she hosts a dinner for some wildly dissimilar guests: her tenets Sandra (Cindy Crawford) and Paul (Jamey Sheridan) are conservative professionals, while fellow building dwellers Marta (Monica Keena) and Billy (Dylan Bruno) are rock musicians. Also at the party is wacky psychic Arnita (Tyne Daly). During dinner, Arnita sees the spirits of another couple: Mae (Samantha Mathis), a flapper from the 1920s, and Katharine's great-grandfather Edward (William Hurt). Unnerved, Arnita predicts that one couple will split up by year's end. Though initially shaken, the guests brush her off as a nut. Yet toward the year's end, Katharine grows increasingly jealousy of Rick's flirtation with Sandra.
Critic Reviews for The Simian Line
Audience Reviews for The Simian Line
A refreshing take on the fragility of human relationships. "The Simian Line" reveals the ease in which we question the motives and thoughts of our loved ones, in this case by the suggestion of a supernatural reader, and their commitments to us. With humor sprinkled throughout the plot, and the diversity of relationships it deals with - ultimately, "The Simian Line" is a film without aesthetic or topical redundancies.
Samuel Fishman
Was I supposed to enjoy this more, it seemed like I was supposed to but I just had a huge time sitting through it and I admit i didn't pay much attention to the movie.
Super Kawaii
½
Offbeat little film has it's moments and a wonderful cast, but ultimately doesn't work as a whole. It tackles too many story lines and found the editing to be distracting.
James Higgins
The Simian Line Quotes
There are no approved quotes yet for this movie.
Discussion Forum
Discuss The Simian Line on our Movie forum!