Simón del desierto (Simon of the Desert)
(1965)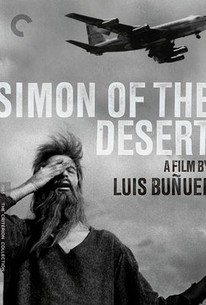 Simón del desierto (Simon of the Desert) Photos
Movie Info
Forty minutes is more than enough screen time for Spanish director Luis Buñuel to state his case in Simon of the Desert. Claudio Brook portrays fifth-century Christian Simon (later St. Simon Stylites) who dispenses religious sagacity while standing on a tall column in the middle of the desert. Typical of Buñuel's hatred of the Church, the Devil (Silvia Pinal) is a far more entertaining and articulate spokesperson for his point of view than Simon is for Christianity. An abrupt, ill-suited ending suggests that Buñuel either tired of the subject and wanted to move on to other things, or that he ran out of money and had to wrap before the process servers showed up. This Mexican film was originally titled Simon del Desierto. ~ Hal Erickson, Rovi
Critic Reviews for Simón del desierto (Simon of the Desert)
Audience Reviews for Simón del desierto (Simon of the Desert)
Rating: 4 stars Arthouse Rating: 3.5 stars If church isn't enough to convince you of the high absurdity of religious fanaticism, then watch Simon of the Desert. Filmed by Luis Bunuel in Mexico, the film takes religious text of bible, and shows it when worshiped as truth. It could've showed the more genocidal and hellish acts depicted as "good deeds", but instead it brings the parts that make the bible (or more the worshipers) a laughing stock. It's much more than a mockery though. It's a story of obsession, spirituality, and self inflicted misery. The film has been overshadowed over the years, but I encourage a watch of this satire. It left a surreal feeling on me, it's a great perspective on excessive spirituality.
Daniel Dolgin
Super Reviewer
½
Luis Buñuel is a real creator, not a follower! That is why I love his work so much... and this is another fine example how he creates. He actually wrote the novel and then he adapted it with help of his friend Julio Alejandro. The novel and this 1965 film were loosely based on the story of the ascetic 5th-century Syrian saint Simeon Stylites, who lived for 39 years on top of a column. On the screen we could enjoy again Silvia Pinal's and Claudio Brook's great acting. Buñuel was never a great friend of Vatican and when in 1960 he returned to his home country Spain after a long-term exile in Mexico in order to direct Viridiana , didn't take long for him to be on the black list again! The film scandalized the Vatican and the government, which prompted Buñuel into a second exile back to Mexico. In Mexico he could freely direct The Exterminating Angel in 1962, and as well as Viridiana, the film was critical of religion. This movie, Simón del desierto was the last of the trilogy (using the same stars) and he keeps the controversial dealing with religion while still managing to keep the certain elements of his surrealist period. During the movie you could feel that the director caricatures Simon Stylites while admiring his reactions on some things he had to endure and see during his life... How many movies you've seen which will take you on a surrealistic trip in which the main character resists Satan's lures, performs a miracle and garbles some prayers but ending in a swinging discothèque with no option to escape this futuristic word in which he was thrown until the end!? You can enjoy the official 42 minutes (actually my version was 45 with all the credits) of unusual story with beautiful black-and-white photography by Gilbert Figueroa... and think while you're doing it!
½
Just not a huge fan of surreal stuff
Ken Stachnik
Super Reviewer
Simón del desierto (Simon of the Desert) Quotes
There are no approved quotes yet for this movie.