Sinatra
(1992)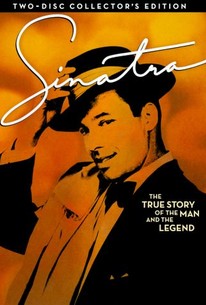 AUDIENCE SCORE
Critic Consensus: No consensus yet.
Movie Info
A made for TV movie made with the blessing of its subject, this is the story of Frank Sinatra, entertainer and crooner par excellence. From his beginnings in Hoboken, Jew Jersey through his rise to status of superstar, with all the intervening upheaval such a meteorite rise entails, it's a surprisingly accurate and well-done biography of one of America's mega-stars.
Rating:
NR
Genre:
Directed By:
Written By:
In Theaters:
On DVD:
Runtime:
Studio:
Warner Bros. Television
Critic Reviews for Sinatra
All Critics (2) | Fresh (1) | Rotten (1)
A top notch first half more than makes up for an iffier, rushed second half.

It's far from an effective movie, and farther more from an effective mini-series because when all is said and done, I'd really rather watch a documentary...

Audience Reviews for Sinatra
½
I have always been fascinated with beginnings such as the beginning of an important event or the beginning of a successful career and to what extent fate and destiny had played in that process. For example, Gregory Peck was an English major in his last year in college walking on campus one day when an acquaintance happened to see him and told him that the Drama Club was putting on a play and needed a tall man such as he for a small role and would he be interested. He answered why not even though he had never acted nor ever intended to act but once he got on stage, he found himself, and Gregory Peck suddenly became Gregory Peck. This film is an autobiographical drama of Francis Albert Sinatra that was made for television and shown in two parts on separate nights in 1992. The film was endorsed by Sinatra and produced by his daughter, Tina Sinatra. It was directed by James Steven Sadwith and stars Philip Casnoff, Olympia Dukakis, Bob Gunton, Gina Gershon and Marcia Gay Hardon. The story is both exciting and engaging because it is an extremely candid account of Sinatra's life, complete with warts and all, and is a must see for anyone interested in the beginning of one of the greatest show business careers of all time. It starts with Frank as a young boy in Hoboken, New Jersey and how he would sing in his father's bar anytime he got the chance. His mother, Natalie Dolly Sinatra (Olympia Dukakis) is a midwife and a local politician in the Democratic Party. As Sinatra reaches manhood, he tells his father that he wants to be a professional singer but his lofty ambitions are not met with any encouragement at all and he leaves home at the age of seventeen because of the constant tension between him and his father. He is played by Philip Casnoff who bears an uncanny resemblance to Sinatra and who does a knock out job in playing a show business legend, an accomplishment that is not easy to pull off. His outstanding acting style is reminiscent of Larry Parks who played Al Jolson in two autobiographical movies in 1946 and in 1949. Parks did the acting but when he sang, he lip-synced to the voice of the real Al Jolson who actually sang the songs. Jolson was the first superstar in the country before that word was even invented and he and Sinatra, to my best knowledge, are the only entertainers to have films made about them while they were still alive. Sinatra is very much inspired by Bing Crosby (who was a Jolson fan) and is determined to become a singer himself thinking that he could be as good as his idol. After quitting school and then being fired from several jobs, he takes lessons from a local coach who teaches him how to vocalize and strengthen his voice. He then joins the Bowes Amateur Radio Show and is put in a quartet group to go on tour. However, Sinatra does not get along with the group and he leaves. In 1938, he is arrested on a morals charge involving a former girlfriend but the case is dismissed by the courts and in 1939, he marries Nancy Barbato (Gina Gershon) who lives across the street from him. He gets a break to work as a singer and master of ceremonies at the Rustic Cabin in Englewood, New Jersey and he is heard by Harry James who invites him to join his band and together, they make many popular recordings. In 1939, he is approached by Tommy Dorsey (Bob Gunton) who has an opening for a singer in his band. Dorsey's band was the big time in show business and Sinatra was eager to join him. The problem is that he would have to sign a personal contract with Dorsey which would stipulate that if Sinatra were ever to leave the band, he would have to pay Dorsey 40% of whatever his earnings would be for the rest of his life. He signs the contract! Sinatra's career shoots sky high with Dorsey and they record many hits including his biggest number one song, I'll Never Smile Again! In 1941, Sinatra finds himself on the top of the list of all the male singing stars in the country and he becomes anxious to start out on his own except for the problem of the contract he had signed. When he approaches Dorsey about this, he is told by him adamantly that he will make sure that the contract provisions are enforced. How Sinatra gets out of this contract is a controversial subject but rumors were that mobsters, as depicted in The Godfather, approached the bandleader a few times and then finally they make him an offer he can't refuse! When I saw this film in 1992, I had thought that this subject was glossed over but after seeing it again, I have changed my mind. In regard to the contract, Dorsey tells Sinatra that he has received numerous calls from Sinatra's attorney, Columbia Records, CBS and also from his Agent. He over emphasizes and dwells on the word Agent, which seems to insinuate that the mob was perhaps involved in the contract cancellation. In 1942, Sinatra opens at The New York Paramount Theater to sold out audiences. His career is in full force now and he is becoming a phenomenon. However, his excessive drinking and smoking are taking a toll on his voice and he is making headlines that show him to be a womanizer and one who would brawl with the press because he didn't like what they wrote about him. He is even shown to throw a sucker punch at a reporter while his back is turned and he is rumored to be linked to the mafia. By 1949, his career is in decline. In addition to all this, he has been having a public extramarital affair with the actress, Ava Gardner (Marcia Gay Hardon) and their stormy relationship is not helping his reputation or his career. Part One of this film ends with Sinatra on stage singing (with her in mind) perhaps the most haunting torch song ever written titled, I'm a Fool to Want You! Part Two begins with Sinatra getting his divorce and marrying Ava Gardner but he suffers a vocal cord hemorrhage and cannot sing for months. He finds himself hitting bottom so hard that he makes an attempt at suicide but fate steps in when a friend shows up just in time. He now realizes that he must pull himself together to revitalize what's left of his life and career. He learns of a movie that is being cast called From here to Eternity and he knows he would be perfect for the role of a soldier in the film by the name of Maggio and he feels this film would serve as his comeback vehicle. His problem now is that the head of the studio refuses to give him the part. Eventually, he is cast in the movie and it is implied here that the studio head finally agrees to allow him to play the part because of the influence of Ava Gardner and also providing that Sinatra agrees to work for very little salary. Not addressed in this film is the scenario that was shown in The Godfather, where it is suggested that Johnny Fontane, a character who is obviously based on Sinatra, is allowed to play the role because the studio head is paid a visit by some men in the mafia who make him an offer he can't refuse! Sinatra does refer to the godfather, Sam Giancana, many times in the film as his friend and he is shown playing golf with the mafia boss. We will never know the truth but he wins the academy award which energizes his career and he never looks back. THE BOTTOM LINE? This film is required viewing for all Sinatra fans and also for all those who are interested in the true life story of a man who is now called the Voice of the Twentieth Century! The movie is extremely well done and very well acted especially the superb job of Philip Casnoff. And in addition to the autobiographical story, the music of Sinatra's singing is fantastic. The film ends in 1974 when Sinatra, who had retired two years earlier, now decides to resume his career. I saw him perform in Las Vegas in 1977 at Caesar's Palace. He was always sold out in advance so we had to pull strings with friends who had some connections and we were told to call his hotel when we arrived which was the day of his opening night. We did and we were asked to show up that very night at the VIP line at which time we were presented with an autographed picture and then escorted into the room about two tables back from center stage. Sinatra was never one to move about the stage very much but he didn't have to. When he began singing, his dynamic energy came through loud and clear and when he sang the words, you could tell that he meant them and that he was living them at the same time. Part One is the more intriguing of the two parts because it shows the beginnings of a legend. Endings are fine but are mostly already known and, as said earlier in this writing, it is the beginnings that are fascinating. At the end of this film, whether you're a fan or not, you will agree that, right or wrong, Sinatra really did do it his way! From the Aisle Seat at the Movies http://moxieandcharisma.wordpress.com
Moxie and Charisma Consulting
Sinatra Quotes
There are no approved quotes yet for this movie.