Singham
(2011)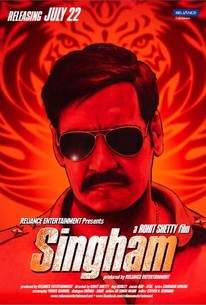 AUDIENCE SCORE
Critic Consensus: No consensus yet.
Movie Info
In the backdrop of Shivgad, a small village in the border of Maharashtra and Goa, the film revolves around the story of an honest, diligent and honoured Inspector Bajirao Singham played by Mr. Ajay Devgn who fights against injustice and prejudice using his own ethics and principles. A sudden strike of destiny sets up Singham against the tremendously powerful criminal cum politician Jaykant Shikre (Prakash Raj), challenging his morals and beliefs. Jaykant's powerful planning and force makes Singham land up in the ruling city of Jaykant Shikre, the city of 'Goa', where he leaves no stone unturned to make Singham's life a nightmare to live. Singham's supportive girlfriend Kavya (Kajal Aggarwal) and his tryst with Late Mr. Rakesh Kadam's family makes him realize the importance to bring a change in the system by eradicating the root cause Jaykant Shikre, by not going against the law of force but by being a powerful part of it. -- (C) Reliance
Critic Reviews for Singham
Audience Reviews for Singham
This one was surprisingly good. Over-the-top dramatic and corny, but it was a really entertaining film that I really enjoyed.
Garhett Bambrick
Singham! Terrible flick, but thoroughly entertaining, because: Holy sh** that dude just flipped a car with his bare hands and pulled the driver out as it was flying over him! There's really nothing else that needs to be said.
Samuel Hunter
½
Singham (Hindi) Best thing about commerciality is - it's malleable. Twist it, turn it or hammer it and the end result remains the same if itâ(TM)s an enjoyable fare sans logic. Off late even Bollywood junta have jumped on to this bandwagon and when the results were more than scintillating, they began sticking to it like a ritual. Plot: Bajirao Singham aka Singham (Ajay Devgan) is an honest and upright cop in Shivgarh village. A simple case of bail signing leads to an intense tiff between him and Goa based political big wig Jaikant Shikre (Prakash Raj). The movie is all about Singham overpowering and trumping Jaikant as the setting moves to Goa city. Analysis: It's a commercial formulaic film and also a remake of a South Indian movie by the same. The film starts off on a promising note with the suicide of an honest police officer. From then on the stage is set for a perfect cop to fill in the void and set things right, eventually. First half of the film runs in a rustic village setting with enough of scope for action, family sentiment and squeaky clean romance. Just before interval a perfect face-off situation is set between hero and anti-hero that strikes a chord with every moviegoer. Second half of the story moves to Goa thatâ(TM)s the serious meat for the film. Regular tick off scenes between the protagonist and bad guys are exquisitely captured. Keeping aside the cliched plot line, the things that click superbly well are its characterizations, situations and screenplay. There is not a whole lot of entertainment in terms of comedic relief but intense story telling with sprinkled scenes of romance more than make up for an entertaining pot boiler. All scenes leading up to pre-climax are riveting but the film starts losing its steam towards the end - but nothing fatally wrong. The film's story might be cliched but dabbing it up with racy screenplay, intense action episodes, sensible dialogues and a bit of family drama makes it a level field for entertainment. Another good thing about the movie is - no sleaze. It's a sure watch fare for everyone. Performances: Ajay Devgan as Singham couldnâ(TM)t have been any better. Right from his physique to his styling, he delivers a power punched yet mesmerizing performance. Heâ(TM)s innocent and respectful in romantic episodes and extreme adrenaline in all other departments. Though the thrills department involved lot of rope work, action episodes were canned with extreme commercial viability and Ajay aced them like anything. Kajal Aggarwal as lead actress was convincing enough and has nothing pivotal to deliver in terms of performance. She seems limited to more than song and dance episodes. Prakash Raj as Jaikant is a total surprise package. The man mouths big Hindi words/sentences with extreme eloquence and no noticeable inconsistence. Though he becomes a mockery of himself towards the end of the film, he leaves his mark in confrontation scenes. All the remaining characters in the film are adequate with no significant role wastage. Director ROHIT SHETTY, story writers Sajid - Farhad and screenplay writer Yunus Sajawal must be commended for doing a fine job in story adaptation, narration and their attention to detail towards elevating commercial elements. Background music by Ajay Atul is simply rocking especially during action and confrontation episodes. It elevates the âfeel aspectâ? of the film beyond deliberations.
Jack Lakkapragada
Singham Quotes
| | |
| --- | --- |
| Jaikanth Shikre: | "Welcome to Goa, Singham!" |
| Jaikanth Shikre: | Welcome to Goa, Singham! |
Discussion Forum
Discuss Singham on our Movie forum!