Sins
(2005)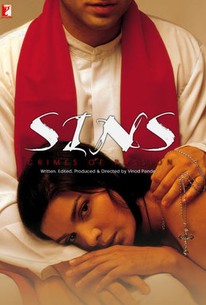 AUDIENCE SCORE
Critic Consensus: No consensus yet.
Movie Info
Vinod Pande's controversial film follows the exploits of two passionate lovers in a relationship that was doomed from the start. Father Williams (Shiny Ahuja) and young Rosemary (Seema Rahmani) begin a seemingly innocent association when he helps her with her career choice, but the relationship quickly turns intensely physical and clearly forbidden. Though initially fraught with guilt, the pair ultimately finds they can't deny their feelings.
Rating:
NR
Genre:
,
Directed By:
In Theaters:
On DVD:
Critic Reviews for Sins
There are no critic reviews yet for Sins. Keep checking Rotten Tomatoes for updates!
Audience Reviews for Sins
Sins (Vinod Pande, 2005) When I reviewed Rain, Amol Shetge's offensive, ill-thought rape thriller from 2004, one of the things I mentioned about it was that the ubiquitous Bollywood musical numbers were out-of-place, and in the context of the movie, really rather disgusting. Well, now I have seen Sins, Vinod Pande's 2005 offensive, ill-thought rape thriller, and more than anything as I suffered through its hundred thirty-five minutes, I found myself missing those out-of-place, disgusting musical numbers. Pande's first theatrical feature since 1989 gives us Father William (Shiney Ahuja in an early role; Ahuja's acting career was overshadowed for a while their by sexual assault allegations, but he's back in the saddle and appearing in Choudhury's The Accident later this year), a local priest, who falls in love with a village girl, Rose-Marie Fernandez (Good Night Good Morning's Seema Rahmani, who started her career in America at the beginning of the last decade, then relocated to Bollywood in 2004). At first, he is kind, almost worshipful, but soon enough he turns ugly, possessive, forceful. (It is no coincidence, I am sure, that the higher he rises in the church's ranks, the worse he becomes.) In order to keep propriety, he allows Rose-Marie to wed Graham (played by Pande himself), an ordinary, unassuming little man, a relative of one of her co-workers, who's mostly away on business. Things take a turn for the dangerous, however, when Rose-Marie finds herself actually starting to care for Graham. When William finds out, heads will roll...perhaps literally. There are times-the best in the movie, unfortunately-when it's unintentionally hilarious. Most of those times happen when William flies into a rage. Ahuja's overacting makes every one of these scenes, which are supposed to be the most tense in the movie, pathetic at best. (Jan van Steenbergen, in his review, hypothesizes that this is because Ahuja is not a native English speaker and was too busy trying to remember his lines in English to pull off a convincing performance; I'll leave that to the viewer to decide, but it's certainly plausible given that Rahmani, who is a native English speaker, is much better here.) When it's not being too funny for its own good, it drags. The best Bollywood flicks I've seen have this same headlong rush into the plot, leaving the viewer wondering how on Earth they're going to draw this out for another two and a half hours, but to a one, they all have some sort of strange twist combined with a breakneck pace to get the viewer through the muddier bits. Not so Sins, which spends the first eleven (yes!) minutes building up the plot, and then an interminable half-hour of us waiting for the story to pick up and start flying again. (And when it does, it's infected with avian flu.) At first, I thought it was going to be a second-rate El Crimen del Padre Amaro ripoff, and since watching it I've found out that a number of reviewers have painted it with exactly that brush. Don't believe them; Pande wasn't aiming anywhere near that high. The only commonality between the two is a priest falling in love with a parishoner, a storyline we've seen in a number of other, less recent, flicks. All of them, every one I've ever seen, is better than this. Amaro isn't even on the same planet, much less in the same zip code, as this silliness. *
Robert Beveridge
Sins Quotes
There are no approved quotes yet for this movie.