Sir! No Sir!
(2006)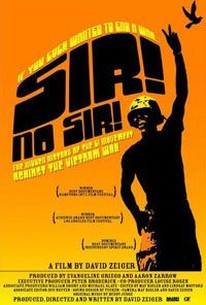 TOMATOMETER
AUDIENCE SCORE
Critic Consensus: A powerful reflection on a pivotal era, from a viewpoint seldom visited, this documentary hits home, especially with its relevance to current events.
Movie Info
Like the Vietnam War itself, the GI anti-war movement started small and within a few years had exploded into a force that altered history. Like the times from which it grew, the movement involved organized actions and spontaneous resistance, political groups and cultural upheaval. Today, at a time when American troops are again fighting a protracted, questionable war, this military insurgency has been all but eliminated from collective memory. Even though it profoundly impacted American society, it rarely appears in historical accounts. This chronicle features news reports from local and national television broadcasts and archival images from newspapers and magazines. Recently shot interviews with individuals involved in the struggle include: Hollywood actor and activist Jane Fonda; soldiers imprisoned for refusing to fight, train other soldiers or ship out to the frontlines; Vietnam veterans who became anti-war activists or joined the over 500,000 soldiers who the Pentagon listed as deserters during the war; the leader of the Presidio 27 mutiny; and soldiers who went on strike while in Vietnam among others. As well, the film includes never-before-seen Super-8 and 16mm film footage of events in the GI movement shot by GIs and civilian activists.
Critic Reviews for Sir! No Sir!
Audience Reviews for Sir! No Sir!
Memorable documentary on the trials and tribulations of those who protested the Vietnam war...who actually were in Vietnam. The history of the soliders who rebelled on the field and their lives afterwards. A good addition to the Vietnam canon of film.
John Ballantine
Super Reviewer
A very revealing documentary about the anti-war movement that was started by our troops during the VietNam era. Although the imagery we now have is that of dirty hippies spitting on soldiers as the returned from serving overseas, this documentary goes to show that that is a far cry from the truth. There was a concerted effort amongst members in all branches of the military to protest what they were being required to do. Much of it was in the form of propaganda (underground newspapers and the like), but also outright refusal to obey orders. Some were courts-martialed for expressing a differing view, while others were even sentenced for mutiny. Some soldiers went as far as shooting their commanding officers or NCOs. The Black supremacist movement, en-vogue at the time, seized upon the disenfranchisement of Black soldiers to cause problems for "Whitey." One example is the uprising in a military jail in VietNam where White inmates and guards were attacked for days. According to the documentary, this strife inside the military caused the pull-out from VietNam and the change over to aerial bombings. As much as I cannot stand hippies, these people basically had the right idea. I wonder why we don't have this type in the military now (or is much of it not reported?).
D M
This is a must see movie, and should be required viewing in all grade schools. It's not that good of a film, more something you had to sit through in history class. EXCEPT this is real and the truth. Now go watch it my little mushrooms!
dinahmoe humm
Sir! No Sir! Quotes
There are no approved quotes yet for this movie.
Discussion Forum
Discuss Sir! No Sir! on our Movie forum!