Siren
(2009)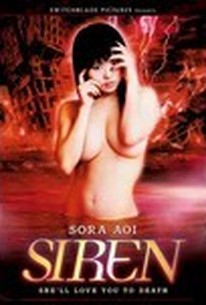 AUDIENCE SCORE
Critic Consensus: No consensus yet.
Movie Info
The avarice of five criminals awakens an ancient lust in this erotic crime thriller featuring adult superstar Sora Aoi. It was supposed to be the perfect crime: A group of thieving strangers steal $1.5 million, and convene at a hidden location to change cars and swap IDs before going their separate ways. None of the criminals could have ever suspected that their greed possessed the power to summon the malevolent force once sited for summoning sailors to a grim fate on the rocky shorelines, but here, in the modern world, the Siren has discovered a new means of trapping her masculine prey. Once The Siren's got you in her sights, there's no escaping her irresistible call. ~ Jason Buchanan, Rovi
Critic Reviews for Siren
There are no critic reviews yet for Siren. Keep checking Rotten Tomatoes for updates!
Audience Reviews for Siren
½
"Is that you? The female ogre who sings a song?" Siren is a sleazy, low-budget Japanese flick about a group of criminals that fall under the deadly influence of a mythological siren. At least, a version of a siren that is invulnerable to bullets, can sing with its mouth closed, likes to lick its lips a lot, and looks just like a busty young Japanese chick. After successfully robbing a bank, five men kidnap a beautiful woman that happens along their path and take her to their hideout as part of their "celebration". But the woman is actually a supernatural creature that can kill with her voice, and she uses her beautiful exterior to alienate the greedy men and turn them against each other to bring about their deaths. Why does she have to have sex with the men before she kills them? Don't ask me. I'll be honest, there's not a lot of reasons to recommend this, even though it's not exactly awful. If you just want to ogle Sola Aoi, there are much more..."rewarding" sources available. The story is bare-bones (imagine a pedestrian, unimaginative riff on Reservoir Dogs with the addition of a hot manipulative woman who takes her clothes off every few minutes) and the acting is mediocre, even by the standards of this kind of movie. The short running time MIGHT make it worth checking out if you still find yourself overwhelmingly interested. Siren just barely sneaks across the line into "watchable" territory.
Siren Quotes
There are no approved quotes yet for this movie.
Discussion Forum
Discuss Siren on our Movie forum!