Six Ways to Sunday
(1999)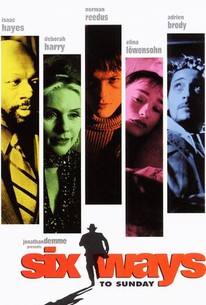 Six Ways to Sunday Videos
Six Ways to Sunday Photos
Movie Info
Writer, director, and producer Adam Bernstein followed up the disastrous comedy It's Pat: The Movie (1994) with this black comedy that mixes elements of Psycho (1960) and Goodfellas (1990). Former male model Norman Reedus stars as Harry Odum, a henpecked, 18-year-old momma's boy in Youngstown, Ohio, who -- with his violent temper -- impresses a local boss of the Jewish Mafia. Soon he's found his calling as a hit man alongside his crack addict partner Arnie Finklestein (Adrien Brody), and he discovers that his rage and complicated psychosis fuel his murderous abilities. Harry also falls for the organization's limping, Hungarian-born maid Iris (Elina Lowensohn), a romance complicated by Harry's Oedipal, sexual relationship with his domineering mother Kate (Deborah Harry).Six Ways to Sunday (1997) was based on the Charles Perry novel Portrait of a Young Man Drowning.
Rating:
R (adult situations/language, nudity, violence)
Genre:
,
Directed By:
Written By:
In Theaters:
On DVD:
Runtime:
Studio:
Ardustry Home Entertainment
Critic Reviews for Six Ways to Sunday
Audience Reviews for Six Ways to Sunday
½
At first, having Madden around kind of confused me. (May I say I might reveal spoilers, but anyway-) After a while I figured this film was about a dysfunctional young adult who, now telling from the mother while thoughout the whole thing seeming odd, had done something terribly wrong with him. I'm unsure because I never read the book, but for not reading the book I really liked the film all in all. I don't see many flaws with it at all that can actually come to mind, but I was satisfied with it. The ending was a bit accomplished but I'd like to know what the dead weight would actually do good and how Iris felt about Harry having it with him. (if you watched it, you'd get what I'm saying) Though she seemed to realize he had some sort of.. oddity about him already. Pretty much saying this guy is traumatized obviously by something, and it's kind of haunting him through the whole thing in a manic episode. Still really good.
Angela Hylia
This film never seemed to find an audience, but it is a successful blend of genres with solid off-beat performances. Obviously, not for all tastes, but Adam Bernstein crafted a unique and bold film.
Matty Stanfield
½
The reason I didn't give the movie a solid five stars is because I've read the novel, and one area where it differs is Arnie. Adrien Brody's wannabe thug portrayal of a guy who's supposed to be Harry's in with the mob is almost cartoon-ish and it reflects somewhat badly on the mobsters in this movie. Also, the effects when Harry goes into his rages aren't the best. Perhaps if they could have conveyed more where Harry was coming from beforehand, all that would be needed is maybe a dropout of sound, a distant look in his eye, then he'd let loose and it would be way more impactful and less of a mess. With all that said, however, they do well to incorporate a lot of the source material even though they shrink the timeline. Almost all the key moments from the novel are given their due, and Norman Reedus as Harry and Debbie Harry as his mother are PERFECT. Norman plays all the aspects of Harry - the innocent, the violent, the sexually confused, etc.. - with true and serious commitment. He doesn't cringe away from some of the film's themes, and neither does Debbie Harry, even more-so. She plays the detached, pouting, smothering mother just as she is. She's a flawed, broken, morally gone woman who's harboring a romantic love for her son now that he's grown, and she doesn't try and play her as someone to be understood, which allows the character to just be fascinating. When you see her and her son both go mad, it's deeply troubling, but it manages to keep perspective, and more importantly, Charles Perry's novel's perspective. If you haven't seen the movie, it's a fascinating one if you're not squeamish to the subject matter. I highly recommend it, and if you enjoy the movie, reading the novel is a MUST. It's brilliant.
Tracey S
Six Ways to Sunday Quotes
There are no approved quotes yet for this movie.