Six Moral Tales By Eric Rohmer
(2006)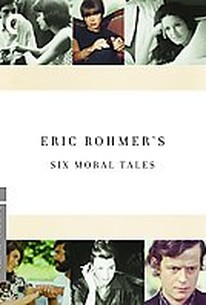 AUDIENCE SCORE
Critic Consensus: No consensus yet.
Movie Info
Rating:
NR
Genre:
Directed By:
On DVD:
Audience Reviews for Six Moral Tales By Eric Rohmer
½
[size=5][b][u]The Girl at the Monceau Bakery[/u] Suzanne's Career[/b][/size] Directed by: Eric Rohmer [img]http://ecx.images-amazon.com/images/I/51BFYASW7QL._SL500_AA240_.jpg[/img] These are the first two films in Eric Rohmer's "Six Moral Tales" series. Both are early works of his. The Girl at the Monceau Bakery is just a little over 20 minutes, while Suzanne's Career is about 50 minutes. Anyhow, The Girl at Monceau Bakery is a story about a vain man who pines over a girl he sees on the streets, but eventually starts up a weird relationship with a girl at the bakery while he's trying to "accidentally" bump into the same girl. He lothes her at first, considering her to be beneith him. As things go on, however, he starts to reconsider. Suzanne's Career is about two men who use "unattractive" Suzanne for money and attention when they are going through a dry spell, but as things come out, but as time goes on, they kind of wonder who they were really hurting. Anyhow, both these movies are essentially about vanity and not seeing people for people, but rather as sex, social status, etc. Neither are great, they clearly are first efforts, but they work on the level they do. Certainly a good start to a great series. GATMB - [size=4]7.5[/size] SC - [size=4]7.0 [/size] [size=5][b]Some Kind of Wonderful[/b][/size] Directed by: Howard Deutch [img]http://images.amazon.com/images/P/B00005JL1C.01.LZZZZZZZ.jpg[/img] [img]http://www.popmatters.com/images/dvd_art/s/some-kind-of-wonderful-dvd.jpg[/img] Somehow, this is the only 80's John Huges and Co. film I somehow missed. That is very unfortunate, because it's probably my favorite of his "lesser" teen films (i.e. not Ferris Beuller, Breakfast Club or Sixteen Candles). This film is pretty much the same basic plot as Pretty in Pink with the genders reversed. Eric Stoltz plays the outsider in school, he likes art and works at an auto shop. His best friend is Watts, a punk-rock drummer tomboy. But for some random reason, Stoltz gets the idea that he can ask out Amanda Jones, the girl that's from the "wrong" side of the tracks, but rides with the "right" side of the tracks people. By a sheer quirk of fate, she has just fought with her boyfriend on the night he asks her out, so she says yes. The movie sounds predictable. And it is, in some ways. But as Roger Ebert is fond of saying, a movie isn't what it's about, it's how it's about it. This movie is boy-meets-girl film, but not really in the way you'd think. It's really about if two people can learn to get over their own insecurities and find out about each other, and if they learn about themselves in the process. Only Hughes and Co. could do this. The star of the show for me is Watts, his tomboyish sidekick. She's such a fun, likable, yet complex and exasperating character. She's kind of like Ducky in Pretty in Pink, but unlike Ducky, you don't want to kick her a$$ at the end of the movie. There are a few things I don't like about this movie, the tone is uneven a little bit, some of the jokes don't work, but overall, it's just a wonderful experience. Anyhow, I should probably say more intelligent things about this movie, but it's late and I'm tired. Suffice to say, Hughes may not get the credibility of a Woody Allen or even a Harold Ramies, but make no mistake, he's every bit as talented. He's simply the best at what he does. [size=4][i]9.0[/i][/size]
Cliff Smith
Six Moral Tales By Eric Rohmer Quotes
There are no approved quotes yet for this movie.