Skeeter
(1994)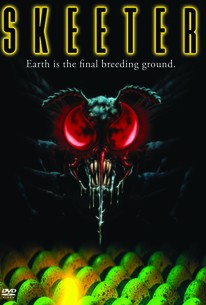 AUDIENCE SCORE
Critic Consensus: No consensus yet.
Movie Info
Part of the same "third wave" of eco-kill horror films which spawned the superior Ticks, Aberration, and Spiders, this giant mosquito film from director Clark Brandon and executive producer Don Edmonds (Ilsa -- She-Wolf of the S.S.) is similarly hamstrung by too much plot about environmental crime and not enough scares. Jay Robinson is the greedy developer who is dumping toxic waste into the mines around the small town of Clear Sky, causing mosquitoes to mutate into giant, silly looking beasts which resemble something out of The Giant Claw. The sheriff (Jim Youngs) and his girlfriend (Tracy Griffith) must put a stop to both the pollution and the bugs. There's a good deal of characterization and exposition, and the cast includes such genre stalwarts as Charles Napier, William Sanderson, George Buck Flower, and Michael J. Pollard, so at least cult viewers have some interesting people to watch in between bug attacks. Still, it is hardly likely that most viewers who choose to sit through a film called Skeeter are looking for the detailed human drama which Brandon throws their way at the expense of real fear. The concept of giant blood-sucking insects certainly has the potential to give viewers the screaming meemies, but time and again the potential is undercut by pious environmental speeches and pointless subplots more suitable to a frontier Western than a horror film. The best films in the eco-kill sub-genre use nature's revenge as subtext, but Brandon pushes it full-tilt into the foreground and the result is a real bore.
Rating:
R
Genre:
, ,
Directed By:
Written By:
On DVD:
Runtime:
Studio:
New Line Cinema
Critic Reviews for Skeeter
Audience Reviews for Skeeter
This is a poor man's Mosquito. Being an avid B lover I went into this with huge laugh expectations. There were a few here and there but not enough to make it memorable. If you are looking for a 5 star insect B then go for the 1995 masterpiece Mosquito. That will have you dying of laughter/
Jason T
½
i fell off my couch laughing my guts out; now i appreciate the phrase awfully funny! it was midsummer about 5 years ago, stifling hot when my local tv station ran mansquito and skeeter back-to-back. it proved deet-tri-mental to my health.
bob weakley
[center][img]http://images.rottentomatoes.com/images/movie/coverv/35/804935.jpg[/img] [/center] Absolutely no redeeming value in this movie with one exception: Micheal J. Pollard and William Sanderson on the screen at the same time; two of my favorite character actors. This movie also receives my '[i]drive around to kill time[/i]' award. When I watch a movie and it has lots of driving/walking/riding scenes that add nothing to the story, it is a sure sign of a weak script and the editor must insert 'filler' to stretch the mess out. PS: Jim Youngs must be the son of The Hoff, he looks just like him. [img]http://img177.imageshack.us/img177/1953/rottentomatore8.jpg[/img]
Woody Woodrow
Skeeter Quotes
There are no approved quotes yet for this movie.