Skinned Alive
(2007)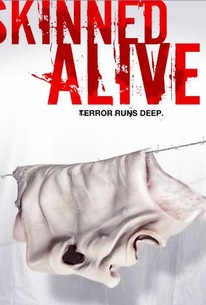 AUDIENCE SCORE
Critic Consensus: No consensus yet.
Movie Info
A lonely New Yorker named Jeffrey discovers that true love can come at a terrifying price in Savage Roses director James Tucker's gruesome tale of a cannibalistic New York prostitute and the man who longs for her affections. No trapped between a cal girl with a gruesome secret and the murderous maniac who wants her dead, Jeffrey must choose between a life of death, and a solitary existence of pure sadness.
Critic Reviews for Skinned Alive
There are no critic reviews yet for Skinned Alive. Keep checking Rotten Tomatoes for updates!
Audience Reviews for Skinned Alive
This movie is misnamed. It should be called "Jeffrey and the Cannibal Hooker." Jeffrey is a nice Jewish man, a mild-mannered, not bad looking insurance salesman, who can't seem to get a date. The girls in the office pay no attention to him. He lives alone in a large house that he inherited from his mother, whom he took care of in her declining years. His siblings, a doctor and lawyer, see poor Jeffrey as something of an underachiever and fear he's sinking into depression. But Jeffrey decides to pay for sex and starts calling escort services, for companionship to fill his empty nights. He even tries to engage the call-girls in conversation and asks them out to dinner. The usual response is "I don't like to mix business with pleasure." But one night he encounters Pandora, a tall, exotic prostitute, with an odd hunger. It seems that her routine is to take the money up front, bed her "Johns," and then rip them apart with her rather strong teeth. They die from shock and blood loss, the sheets drenched in blood, while Pandora munches hungrily on bits of flesh and internal organs. (The effects are not the best, but effective enough for fans of this sort of Grand Guignol.) Pandora is somewhat smitten with Jeffrey because he treats her with respect. She gives him something none of the other hookers were willing to do... she shares an order-in meal and chats for a while. Of course, romance blossoms. Intercut with these scenes are darker ones involving a stalker who is hunting for Pandora, and he cuts a swath of torture and murder in his efforts to gain enough information to track her down. His kid brother, you see, was one of her midnight snacks. The stalker had procured her for his "slow" brother, and then he stepped out to buy some cigarettes. When he returned, he found little bro was just "leftovers." (The stalker, by the way, is played with a scary simmer by Joshua Nelson, the screenwriter of this bloodfest.) Meanwhile, Jeff and his dream girl are stepping out together. She feeds on her off nights away from him. One day in the park, he drops to one knee and asks her to be his wife. "I'll give you an answer," the ravenous redhead replies, "but first there's something about me you should know." That night she shows up with a drug-addled young girl in tow, and Jeffrey thinks she's offering him a threesome which he turns down. But no, she brought the girl along to demonstrate her dark secret, and she proceeds to slice and dice the young girl in front of Jeffrey to demonstrate just what it is that makes her different. Jeffrey is aghast, but his love for Pandora proves stronger than his aversion to cannibalism. He buries what's left of the female victim in his back yard, and agrees to try and work things out. Will Jeff and Pandora find a way to make this work? Will the love-smitten salesman be willing to help his sweetheart procure a steady supply of fresh meat if she gives up her trade? Will his family approve of a cannibal hooker who's not Jewish? Will the stalker arrive to mess things up, just when you think think this idyllic tale might have a happy ending? Well, I stayed around long enough to find the answers, and I think those of you with true drive-in sensibilities just might hang around too. Not great, not even good, but quirky and entertaining, "Skinned Alive" has enough yucks to help you forgive the fact that it's basically a low-budget exploitation film. To give you an idea of what we have here, imagine "Lars and the Real Girl" remade as a splatter film...
Wayne Schenewerk
Skinned Alive Quotes
There are no approved quotes yet for this movie.
Discussion Forum
Discuss Skinned Alive on our Movie forum!