Skins
(2002)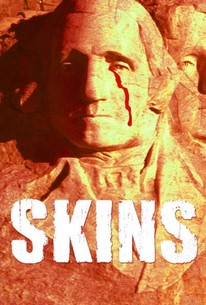 Movie Info
One hundred years after the massacre at Wounded Knee, the painful legacy of the Indian wars still reverberates through the Pine Ridge Indian Reservation, where the Oglala Sioux attempt to preserve their ancient dignity while living on welfare checks and surplus commodity food. Whiteclay, Nebraska, is a small town two miles south of Pine Ridge, South Dakota. Their annual beer sales exceed 3.5. million per annum. More than 95% of those sales are to Lakota people from the Pine Ridge Reservation. For Rudy Yellow Lodge, the ramifications are clearly visible in the unemployment, domestic violence and drug and alcohol abuse he confronts as a criminal investigator with the Pine Ridge Police Department. Rudy's job is to protect the inhabitants of the "rez" from themselves; he spends most nights locking up drunk and disorderly Indians, which frequently includes his alcoholic brother Mogie. Before long, Rudy finds himself taking the law into his own hands, disguised with black shoe polish and a stocking over his head. Rudy's alter ego is a vigilante bent on dispensing swift justice. Rudy's trail of vengeances ends tragically when he unwittingly injures Mogie while retaliating against the multi-million dollar liquor business generated in the tiny border town of Whiteclay. Ironically, Rudy and Mogie achieve some measures of redemption through this tragic mistake. As Mogie recuperates in the hospital, the brothers lay bare some of the darker, unspoken events of their past, and in so doing, begin the process of mending their fractured relationship. When Mogie succumbs to cirrhosis of the liver a few weeks later, Rudy travels to Mount Rushmore to honor his big brother, as well as his people, with final, liberating act of defiance.
Audience Reviews for Skins
has an almost doc like quality i really liked this sophmore effort from the guy who made 'smoke signals'
Greg Wood
Life on the Reservation seems worse than any impoverished place in the U.S. because of the added burden of historical suffering -- its deliberate stain, forever wet, continues to saturate the daily existence of even the young. Contemporary captivity of American Indians still persists -- on the Rez and in the bottle. Pain is only tempered with humor, love and hope. So very worth watching.
Kim Tapio-Nuzzo
An emotional look at native American life. Although the acting is subpar, the film is both hilarious and powerful. Chris Eyers' films are always great to watch. Not as good as Smoke Signals but very good in many different ways.
Ben Eastman
Skins Quotes
There are no approved quotes yet for this movie.
Discussion Forum
Discuss Skins on our Movie forum!