Skokie
(1990)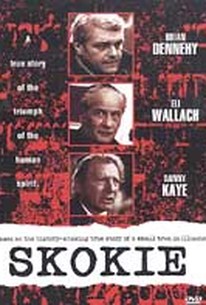 AUDIENCE SCORE
Critic Consensus: No consensus yet.
Movie Info
Rating:
PG
Genre:
Directed By:
On DVD:
Runtime:
Critic Reviews for Skokie
There are no critic reviews yet for Skokie. Keep checking Rotten Tomatoes for updates!
Audience Reviews for Skokie
Made-for-TV drama based on actual events that happened in Skokie, Illinois. Terrific, impassioned performance from the legendary Mr. Danny Kaye.
Randy Tippy
Super Reviewer
½
[center][left][font=Verdana][size=1][img]http://i89.photobucket.com/albums/k225/Unbreakable90000/Skokie.jpg[/img] [/size][/font][/left] [font=Verdana][size=1] [/size][/font] [left][font=Verdana][size=1][b]Max Feldman:[/b][/size][/font][font=Verdana][size=1] Danny Kaye [b]Bertha Feldman:[/b] Kim Hunter [b]Bert Silverman:[/b] Eli Wallach [b]Herb Lewisohn:[/b] John Rubinstein [b]Mayor Albert J. Smith:[/b] Ed Flanders [b]Frank Collin:[/b] George Dzundza [b]Chief Arthur Buchanan:[/b] Brian Dennehy [b]Abbot Rosen:[/b] Carl Reiner [b]Morton Weisman:[/b] Lee Strasberg [b]Janet Feldman:[/b] Marin Kanter [b]Directed by:[/b] Herbert Wise [b]Written by:[/b] Ernest Kinoy During my high school reign, I took an honors civics class during my sophomore year. In the class, my teacher, peers, and myself looked exclusively at limiting the first amendment right. We had to debate about it and write editorials on the manner, and we used the film [i]Skokie[/i] as the basis for some of our pro arguments. A true story, that occurred during the 1970s, viewing the film for a second time is a pleasant treat. The strong acting and superb story-telling makes this a landmark television production. Not many people know about the situation that happened in Skokie, Illinois during the 1970s. Some people don't even believe the Holocaust happened and others thought the Nazi party died down after Adolf Hitler's death and the end of World War II. [i]Skokie[/i] explores a gripping and controversial issue. In 1977, Frank Collin (Dzundka) was the leader of the American Nazi Party in Chicago, Illionis. He wanted to initiate a march in Chicago, but decided to target the village of Skokie instead. In a population of 70,000, nearly 40,000 of the citizens in Skokie were Jewish. One out of every five citizen was a Holocaust survivor or had a relation to a Holocaust victim. Collin knew that his march would create havoc and get him the type of media coverage he needed to get his message across. What makes [i]Skokie[/i] so compelling at times is looking at both sides of the argument. Morally, it would be wrong for any court to allow the march to take place. From a legal standpoint, the American Socialist Party should of had every right to go forward with their march. Eli Wallach and John Rubinstein give powerful performances as the two legal counsel members. Wallach is represents the town of Skokie and promises the people he will go through all legal channels to make sure the Nazis stay out of their village. Rubinstein gives a suddle and quiet, yet surprisingly effective performance as Herb Lewisohn, who's an associate from the American Civil Liberties Union (ACLU). He believes in the Jewish faith, yet he is defending Collin and the Nazis because of his belief that nobody should have their civil liberties and the first amendment restricted and/or limited. One of the reasons why the television movie works so well is because of the performance that Danny Kaye brings in as Max Feldman. Kaye is known for his comedic touch, but he brings in great dramatic depth in the role of Feldman. Max Feldman is the survivor of the Holocaust and when Mayor Al Smith (Ed Flanders) and Abbot Rosen (Carl Reiner) suggest the town to quarantine during the march, Feldman stands up in one of the film's most gripping and emotional scenes. During that moment, Feldman is reliving all of the pain he suffered during the Holocaust, including the death of his mother. He expresses that everything Rosen is saying was said to him in the 1930s in Germany. Feldman and the rest of the Jewish population felt that if the Nazis were allowed to march, another Holocaust could occur. Kaye's performance is something that would of had Oscar buzz if it was an actual theatrical feature. The CBS television event has head-strong performances after another. Oscar winner Kim Hunter ([i]A Streetcar Named Desire[/i]) brings real human in the character of Bertha Feldman, who can't handle the situation with the Nazis. She locks herself up in her bedroom and listens to old records. Marin Kanter, who wouldn't have much of an acting career, also brings human depth to her character in her role as Feldman daughter Janet. She is oblivious to the fact that her parents were Holocaust survivors and she doesn't find out until she asks how her grandmother died at the 30-40 minute mark. Janet then expresses her anger towards her father towards the end of the second act. She reveals that he never has time for her or to meet her needs because he is always busy with his meetings. She lashes out and tells her father that he wants the Nazis to march in one of the film's most effective scenes. [i]Skokie[/i] is a clear-cut winner because of the rich direction and the strong screenplay, along with powerful acting. Such prescenes as Lee Strasberg and Brian Denehy were also present in the production. Though the last 5 minutes of the film feel flat and out of the place, due to the fact that the characters are talking directly to the audience, [i]Skokie[/i] holds up well and the story is just as relevant in today's society as it was back in the 1970s and 1980s. [/size][/font][/left] [/center]
John Smith
Skokie Quotes
There are no approved quotes yet for this movie.
Discussion Forum
Discuss Skokie on our Movie forum!