Sky Captain and the World of Tomorrow
(2004)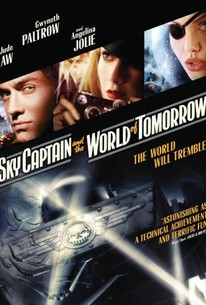 TOMATOMETER
AUDIENCE SCORE
Critic Consensus: Sky Captain and the World of Tomorrow is slim on plot and characterization, but the visuals more than make up for it.
Sky Captain and the World of Tomorrow Photos
Movie Info
Famous scientists around the world have mysteriously disappeared and "Chronicle" reporters Polly Perkins, and ace aviator Sky Captain, are both on the investigation. Risking their lives as they travel to exotic places around the world, can the fearless duo stop Dr. Totenkopf, the evil mastermind behind a plot to destroy the earth? Aided by Franky Cook, commander of an all-female amphibious squadron, and technical genius Dex, Polly and Sky Captain may be our planet's only hope.
People Who Like this movie also like
News & Interviews for Sky Captain and the World of Tomorrow
Critic Reviews for Sky Captain and the World of Tomorrow
Audience Reviews for Sky Captain and the World of Tomorrow
After a second viewing, I lowered my rating significantly. This whole movie is exposition, with a ridiculously wooden plot. I appreciate the audacity of the style, but that's about it. Part of that early 2000s rash of terrible attempts to resurrect the 1940s style: lump this in with The Good German and Leatherheads, among other complete misfires.
Daniel Perry
Super Reviewer
A technical wonder of a tribute to the action/adventure films of 30's Hollywood ... lacking the most important element other than chills and thrills: character development, the human element, the ghost in the machine, the stuff that seduces an audience into caring about the schlubs jumping through hoops. The Indiana Jones series carry the same DNA and knew enough to break the action long enough so you got the impression of knowing the cliches always in harms way. This one regrettably misses that key ingredient. Still its a marvel of execution.
Kevin M. Williams
Super Reviewer
In an alternate version of wartime New York, a dashing mercenary tries to prevent the evil plot of a megalomaniacal German scientist and his army of giant robots. One of the first films to abandon sets and locations in favour of green screen CGI, Sky Captain still looks surprisingly good. As such, it can be blamed for everything from the sins of Lucas and Cameron to Sin City but although the CGI looks dated, the fact that it beautifully renders the retro look of the 1940s means that it never looks cheap and nasty. Add some gorgeous art deco production design and a very attractive cast and this film is still rather special to look at. The plot, although rather episodic and convoluted and often just an excuse to cue up another visual spectacle, does successfully capture the cheerful corniness of the Saturday morning serials it sets out to reproduce and although I did tune out from time to time when the actors' lips were moving, it never gets overly dull. An entertainingly cheesy homage to Flash Gordon and Buck Rogers that does exactly what it says on the tin.
Sky Captain and the World of Tomorrow Quotes
| | |
| --- | --- |
| Polly Perkins: | You mean you knew this the whole time and you let me think we were going to crash? I thought we were gonna die! You should have said something! |
| Joe "Sky Captain" Sullivan: | Look, Polly, it was your idea to tag along, not mine. If you can't take it, that's not my fault. |
| | |
| --- | --- |
| Polly Perkins: | A man came to see me today, a scientist. He was terrified. Said someone was coming for him. I asked him who he was so afraid of and he repeated one name: Totenkopf. He nearly went white when he said it. |
| Dex Dearborn: | Totenkopf. Who is he? |
| Polly Perkins: | He's the invisible man. I've been through every library record twice, looking for anything. I've called every contact I have from Paris to Bangkok. This is the only thing I could dig up. He ran some kind of secret science unit outside of Berlin before the start of World War I. Something called Unit 11. It's been more than 30 years since anyone has spoken his name. Until today. |
| | |
| --- | --- |
| Polly Perkins: | [while crying] I took a picture of the ground! |
| Polly Perkins: | I took a picture of the ground! |
| | |
| --- | --- |
| Dr. Totenkopf: | Who dares come before me? Who dares enter this place? What has begun cannot be stopped. The time for this world is over. |
| Polly Perkins: | Totenkopf. |
| Joe "Sky Captain" Sullivan: | Hello, doctor. Why are you doing this |
Discussion Forum
Discuss Sky Captain and the World of Tomorrow on our Movie forum!