Slaughter Studios
(2002)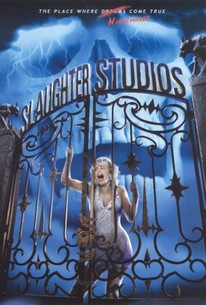 AUDIENCE SCORE
Critic Consensus: No consensus yet.
Movie Info
A group of young filmmakers discover they've fallen on the wrong side of the line between made-up horror and the real thing in this thriller. Slaughter Studios was a film company who specialized in gory horror films much loved by film buffs; however, since the company went out of business, their shooting facilities have been abandoned and gone unused. A handful of film students eager to make a horror film of their own break into the old Slaughter soundstages and begin working on their dream project. But unknown to them, a psychotic killer calls the Slaughter Studios home these days, and before long the carnage committed against the cast and crew exceeds anything happening in front of the cameras. Slaughter Studios stars Allen Scotti, Amy Shelton-White, and Andrew Craig.
Rating:
R (adult situations/language, nudity, violence)
Genre:
, ,
Directed By:
In Theaters:
On DVD:
Runtime:
Studio:
New Concorde Home Entertainment
Critic Reviews for Slaughter Studios
All Critics (1) | Top Critics (1) | Fresh (0) | Rotten (1)
Director Brian Katkin spends the film's first half poking fun at Corman's history of cheapie B-flicks and the second half buying into the formula, finding creative (and not so creative) reasons for his buxom stars to disrobe
Doesn't live up to it's cover
Audience Reviews for Slaughter Studios
As absolutely atrocious as this is, it made me want to film a movie, and I laughed watching it, so it's not a total wash.
Drew Smith
Super Reviewer
[size=5][b]Slaughter Studios[/b][/size] Directed by: Brian Katkin [img]http://www.critcononline.com/images/slaughter%20studios%20vhs%20front3.jpg[/img] I was hoping this would be a fun exploitation movie in the relm of "The Slumber Party Massacre" or "Sorrority House Massacre 2: Nighty Nightmare". But while those films were certainly bad films, they were 'good' bad films that had a sense of style and a sense of self-aware humor. This movie is so bad, that it's clear it's self-aware, but it isn't that funny, and the camerawork, sets, and acting are so bad, that it instead comes off as amaturish instead of campy. It feels like two guys got a few girls with fake boobs drunk and ran them around an old building with bad lighting. Anyhow, there is good crap and bad crap. This is bad crap. [size=4][i]1.0[/i][/size] [size=5][b]A Little Princess[/b][/size] Directed by: Alfonso Cuaron [img]http://media.bestprices.com/content/dvd/90/133998.jpg[/img] I've been meaning to see this ever since I fell in love with Cuaron's version of "Great Expectations," I thought it might have a similar vibe to it, even if it was a children's movie. Well, it doesn't. But it DOES have a very similar vibe to Harry Potter 3, I now understand perfectly why they knew he could do such a project. When I saw HP3, I had seen Great Expectations and Y Tu Mama Tambien, and I admit, I had no idea why they hired him. Anyhow, I liked HP3, but didn't know why they knew he could do it. This is why. Anyhow, I grew up watching the Shirly Temple version of this movie. It actually isn't as different as I thought it would be, the plot and most of the story is pretty much the same. However, the changes they do make are largely improvements, and the acting, sets, and camerawork are all better in this film. It's got a very magical sense to it, an excellent children's film. Anyhow, it didn't blow me away, but it's very solid. [size=4][i]8.0[/i][/size]
Cliff Smith
Slaughter Studios Quotes
There are no approved quotes yet for this movie.