Slaughterhouse Massacre
(2005)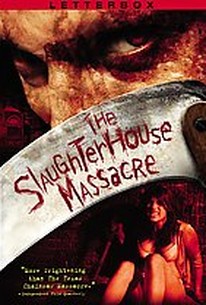 AUDIENCE SCORE
Critic Consensus: No consensus yet.
Movie Info
Rating:
R (Strong sexuality, nudity, violence, some language and drug use)
Genre:
On DVD:
Runtime:
Critic Reviews for Slaughterhouse Massacre
There are no critic reviews yet for Slaughterhouse Massacre. Keep checking Rotten Tomatoes for updates!
Audience Reviews for Slaughterhouse Massacre
"She's got this look, like, she just fell out of the 'I'm-gonna-suck-your-dick' tree and hit every branch on the way down!" - Tweeter, 'Varsity Blues' OK, so it wasn't actually a look like that, but somehow, Tweeter's way of saying "Oh my GOD!" couldn't stop going around in my head. Have you ever seen one of those girls that probably isn't all that attractive to most guys, like, she'd probably just be average. But she's got this particular look that just makes you go nuts? It's usually in a place where you can't even figure out a way to talk to her. Like, just randomly in the store or in a class with 500 people in it. Well, I just saw one of those at the Gym. And she ran off before I got to talk to her. DAMN IT. I hope she goes there more often. So, nevermind. Movies: [size=5][b]The Slaughterhouse Massacre [/b][size=2]Directed by: Paul Gagne [img]http://images.amazon.com/images/P/B0009A40AC.01.LZZZZZZZ.jpg[/img] OK, yes, I knew ahead of time this movie wasn't going to be 'good', but I thought it might be a fun guilty plesure. Lion's Gate put it out, and their stuff at least usually is competent. And some other 'Massacre' movies (such as 'Slumber Party Massacre' and 'Sorrority House Massacre II: Nighty Nightmare) are great guilty plesures. This film is not. It's completely inept from the beginning. Bad clishes that are badly executed with bad actors, bad special effects and bad jokes. Not even 'good' bad jokes if that makes any sense. It gets the random nudity and sex part right, but other then that? Nothing. Absolutely nothing. And the random nudity and sex isn't as fun as in the other Massacre films. I have no idea why I finished watching this film. I really don't. It gets a 1 just for being a horror movie with nudity. It gets nothing else. [size=4][i]1.0 [/i][/size] [size=5][b]Prozac Nation [/b][size=2]Directed by: Eric Skjoldbjaerg [img]http://images.hollywood.com/images/large/l_1622209.jpg[/img] How you will recieve this film will probably be directly affected by if you judge a movie based on what it is, or based on what it could have been. I'm all over the map on that one, but in this case, I couldn't help but be disappointed that this movie wasn't better, in spite of the fact it's basically good. There are many, many elements I liked. I liked the music. I liked Ricci's performance. Heck, I even liked Jason Biggs in it. I liked the story. The writing was good. The problem is, that the director simply has no cohesive vision to the material. It comes off as the bare minimum he could have gotten from so many good elements. My love of American Beauty has faded over the years, but I still think it's a very good film, and I couldn't help but think, what if he had the kind of vision for this movie that Mendes did for AB? Well, it would be a really good film. As it is, it's just barely fresh. Oh, the famous nude scene? Well, Ricci is hot as hell. So her being naked is kinda hot. But it's about as unsexual as it could get. She's sitting on her bed naked, thinking. That's it. Her mom is in the room, for crying out loud. So unless fantasising about mother/daughter incest is your cup of tea, the scene really isn't much to get excited about other then just Ricci being Ricci. [size=4][i]6.5[/i][/size] [b][size=5]The Brothers Grimm [/size][/b][size=5][size=2]Directed by: Terry Gilliam [img]http://www.themoviebox.net/movies/2005/0-9ABC/Brothers-Grimm_The/images/main.jpg[/img] Wow are the critics wrong about this movie! This is visionary filmmaking. It's very close to a 9. While it's got a few problems, the visuals, the characters, the story, the humor, the [i]vision[/i] of what this film is, is just staggering. It's visual scheme is similar in some ways to Tim Burton's 'Sleepy Hollow', but much better, much more visionary. Gilliam has always been a strong visual director, but he's lacked the technology to really truly create his worlds most of the time. I love 'Brazil' as much as the next Gilliam fan, but I think you'd be hard pressed to say there aren't scenes from a techncal standpoint that couldnt' be better. In this film, he is able to create his world from a visual standpoint in a way he's never quite been able to do before. It's staggeringly good. Actually, as a matter of fact, it's similar in other ways to 'Sleepy Hollow', in that it takes a well known story (or several, in Grimm's case), and turns it into something completely new. But while Burton took one story and took some license with it, Gilliam takes elements of tons of classic fairytails and is able to weave them into something completely new. It seems much of the criticism of the film is that it lacks enough plot, a criticism I find rather silly. Sure, it's not a plot heavy movie, but it weaves so many elements into it's little story about two con artists who end up in way over their head, that I was entertained and enthralled with what I was shown. The characters could have been given a little more depth, I grant you. But The story is a sort of fairy tale. It's going for pure imagination, not depth of reality. Ledger is surprisingly strong, and Damon is always good, at least to me. He's one of those actors whom I never seem to expect anything of, I'm not quite sure why, but always leaves me remembering that he's actually a fine actor. (unlike, say, his buddy Affleck.) The film also has a really wacky sense of humor. Even for a Gilliam film. More wacky then Time Bandits. More wacky then Fear and Lothing. It'll either click with you or it won't. It clicked with me totally. I laughed through the whole thing. Anyhow, this film could be carried on visuals and humor alone, but I felt it really did a lot more then that. It's one of Gilliam's most complete visions. I really liked it, and I see it going up if anything on repeat viewings. It's the best non-lotr fantasy in a decade, easily. [i][size=4]8.5 [/size][/i] [/size][/size] [/size][/size][/size][/size]
Cliff Smith
Slaughterhouse Massacre Quotes
There are no approved quotes yet for this movie.