Slave
(2009)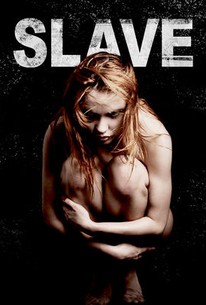 AUDIENCE SCORE
Critic Consensus: No consensus yet.
Movie Info
A modern-day slave trader abducts a woman in Spain, sending her fiancé into a frantic race to save her from a fate worse than death. David (Sam Page) and Georgie (Natassia Malthe) have just gotten engaged. But before they can marry, they want to ensure they have the blessing of David's father Robert (Michael Maxwell), a former career criminal who now resides in a sprawling Spanish villa. Shortly after arriving in Spain, the young couple venture out for a night on the town. Eventually arriving at a lavish nightclub, they are quickly offered the full VIP treatment by the club's accommodating, yet sinister, owner Marlon (Howard Marks). Later, David and Georgie are separated for an instant, and Georgie goes missing without a trace. Convinced that his beloved fiancée has become a victim of foul play, David searches in vain for Georgie, and finds himself descending into a treacherous world of corruption, crime, and death. Little does David realize that Georgie has just been claimed by the White Arab (David Gant) a dangerous and powerful psychopath who places greater value on his own dark pleasures than he does on human life. If David doesn't find Georgie soon, chances are he'll never see her again. ~ Jason Buchanan, Rovi
Rating:
R
Genre:
, ,
Directed By:
On DVD:
Runtime:
Studio:
Lightning Media
Critic Reviews for Slave
There are no critic reviews yet for Slave. Keep checking Rotten Tomatoes for updates!
Audience Reviews for Slave
Long on style, beautifully shot with dramatic fades, freezes and cuts. Slave is also very short on substance. A preposterous story with one dimensional characters delivering terrible dialogue. Nothing at all of interest here.
John Wagner
Slave (Darryn Welch, 2009) What's really interesting about this movie-and I am not using that word in any sort of ironic sense-is the bait-and-switch Darryn Welch and his marketing folks used here. It's one of those rare cases where I went into a movie expecting one thing and got another, but then found "another" to be more interesting than "one thing." That's happened maybe half a dozen times in my movie-watching career, and it makes me wish even more that this had been a better movie than it is; it had a great deal of potential, most of which went unrealized. But I have to give Darryn Welch a lot of points for trying to do something entirely different from the usual exploitation/torture-porn-wannabe thriller that is all too common these days. Plot: a father, Robert Dunsmore (Wish You Were Here's Michael Maxwell), and son, David (Cruel World's Sam Page), have grown up on opposite sides of the Atlantic and in opposite ways. Robert is involved in organized crime; David is an aspiring lawyer. David is also about to get married to the lovely Georgie (Lake Placid's Natassia Malthe), who has placed one single stricture on David before they tie the knot: he's got to take her over to Spain to meet dear old Dad. (He must be over there spending a year dead for tax reasons.) Away they go, but when they get to the ancestral pile, dad's not around, so they decide to head out to a club. They meet, and hang out with, Alejandro (Serie B's Roger Pera), a slimy drug dealer who claims to be a great friend of Robert's, getting royally pissed along the way (in the British sense of the word). David stumbles off to the restroom to do the kinds of things you do there, leaving Georgie in Alejandro's seemingly-capable hands...but when he gets back, she has disappeared, and Alejandro claims to have never met her. The next morning, both Robert and the police seem entirely uninterested in helping David find her, so it's left to him to track down Alejandro, find out what's really going on, and recover his lady. Welch is definitely going for something different here; this is far more talk-piece than it is action thriller, working in the mind-game realm more than anything during its first half. Then comes the second, and the movie starts on its way down the hill. For one thing, I can't tell if some of the movie's characterizations of its bad guys are incompetently racist, or just racist in general. (I ended up not wanting to think about it too hard.) For another, the movie moves from the interesting and cerebral into the generic-action-thriller, which was quite the letdown. And then... the climax. Oh, man, the climax. I understand what Welch was trying to do there, and while the symbolism was a little heavy-handed, it did make sense. But the contortions he had to go through in order to get there are ridiculous (any time your movie forces you to insert a flashback-from-another-character's-perspective scene to explain a character's actions, either your script has failed or you're not giving your audience enough credit for understanding said character's motivation). Still, I found it worth watching for the portion of its first half after Georgie disappears. **
Robert Beveridge
Slave is a pathetic and pointless film that's poorly made. The acting is awful and there's barely a semblance of a story. The directing is amateurish and is unable to bring any suspense or intensity to this supposed thriller. While Slave starts out with some potential, it's quickly squandered by the atrociously bad filmmaking.
Dann Michalski
Super Reviewer
Slave Quotes
There are no approved quotes yet for this movie.