Sleepers West
(1940)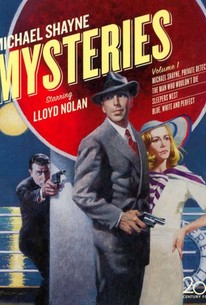 AUDIENCE SCORE
Critic Consensus: No consensus yet.
Movie Info
This second entry in 20th Century-Fox's "Michael Shayne" series was a remake of the 1932 Fox romantic drama Sleepers East. In the original, the detective character was peripheral, but this changed once Michael Shayne (Lloyd Nolan) was written in as the leading character. Dogged by persistent girl reporter Kay Bentley (Lynn Bari), private detective Shayne tries his best to secretly escort murder-trial witness Helen Carlson (Mary Beth Hughes) by train from Denver to San Francisco. Helen's testimony will free a man falsely accused of murder, which will also effectively destroy the election chances of a machine politician. Thus, Mike has to protect Helen from any and all likely assassins, including hired torpedo Carl Izzard (Don Costello), who manages to inveigle Kay's wishy-washy fiance Tom Linscott (Don Douglas) into his camp. Meanwhile, the incognito Helen strikes up a clandestine relationship with fellow passenger Everett Jason (Louis-Jean Heydt), who is harboring a few secrets of his own. Based on a story by Frederick Nebel (or "Torchy Blaine" fame), Sleepers West is full of chock-full of fascinating characterizations and startling little surprises, and is considered by many to be the best of Fox's "Michael Shayne" installments.
Rating:
NR
Genre:
,
Directed By:
Written By:
In Theaters:
Runtime:
Studio:
20th Century Fox
Critic Reviews for Sleepers West
There are no critic reviews yet for Sleepers West. Keep checking Rotten Tomatoes for updates!
Audience Reviews for Sleepers West
½
Not as good as the first in the series "Dressed to Kill" but still amiable, Lloyd Nolan in the lead helps a great deal.
I've already reviewed two Michael Shayne Movies (Michael Shayne, Private Detective and The Man Who Wouldn't Die), so my comments on the two remaining films (this one and Blue, White and Perfect) are going to be limited. Michael Shayne (Lloyd Nolan, as usual) returns for another caper, this time carrying a key witness in disguise on a train (hence the title), one Helen Carlson (Mary Beth Hughes). Of course, what's a key witness without a hitman out to get her? A quick stop for the train picks up Carl Izzard (Don Costello) and Everett Jason (Louis Jean Heydt), the former interested in Helen Carlson's deciding not to testify, the latter simply on the run from his old life--with a pile of money in his suitcase. Shayne's tripped up by the re-appearance of Kay Bentley (Lynn Bari), who he came close to marrying a number of times prior. She's traveling with fiancé Tom Linscott (Donald Douglas), much to the chagrin of Shayne. The twist is Linscott is working for Governor elect Wentworth, who is tied into a dirty court case involving ex-thief Callahan--the man for whom Helen is to testify. Usually the strongest element of a Shayne picture is Nolan, who doesn't let us down in any way this time, continuing to have a glib tongue and a good smirk for his detective's brain, but this time the plot is the star. Fox having long since abandoned Shayne-creator Brett Halliday's original novels, this time the story is drawn from Frederick Nebel's novel Sleepers East (yes, they changed the direction of the train). Tightly wound into a complex knot, we have everyone working against each other and for each other, with porters discovering the fortune Jason carries with him, an extra detective on the train by assignment who isn't sure of what that assignment is, Izzard working as cold-blooded hitman and future husband Linscott working in self-interest at cross purposes to Shayne. Shayne of course is interested in helping his friend (and perhaps a bit of fame), while Kay is after a story for her paper, the Denver Tribune. Jason takes interest in Helen by pure coincidence and now everyone is trying to keep them on or off the train for every reason imaginable. It all unfolds with perfect believability, with a nice guiding hand from director Eugene Forde (who also directed the first Shayne picture, as well as some Charlie Chan ones). There's a nice stunt sequence of a train accident and even a nice running subplot that doesn't relate to Helen directly about a rather wild-eyed train conductor--nevermind the bantering (though occasionally a bit uncomfortable in its unavoidably pre-civil rights near-racism, it's at least not overbearingly awful in that respect). No clunky performances are to be found, and the 74 minute running time races along at quite a clip, being more engaging than the prior (or actually later, I have no idea why this box set is arranged like it is, film The Man Who Wouldn't Die) and more entertaining for it. A nice little b-roll film, and a good addition to the Shayne corral.
R.C. Killian
Sleepers West Quotes
There are no approved quotes yet for this movie.