Sleepwalk
(1986)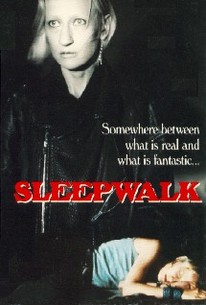 AUDIENCE SCORE
Critic Consensus: No consensus yet.
Movie Info
A group of Chinese tales have a strange effect on the life of a New York City office worker, when he takes a job translating the old manuscript.
Critic Reviews for Sleepwalk
Audience Reviews for Sleepwalk
Today, this obscure indie flick is mostly a bauble for Jim Jarmusch completists. He's the cinematographer, and his long-time girlfriend Sara Driver is the writer/director. His old band the Del-Byzanteens also has a funky song on the soundtrack that's bound to thrill fans of the vintage "No New York" sound. Don't expect the gritty, black-and-white imagery of "Stranger Than Paradise" or "Down by Law," though. The look of "Sleepwalk" is surprisingly attractive, with rich colors and dramatic shadows. Nicole (Suzanne Fletcher, with her strange, bird-like physique) is some sort of office worker who takes on side projects as a translator. An enigmatic pair gives her an ancient Chinese scroll to transcribe, and she finds that its simple fables begin to create disturbing parallels in her life. The magic especially affects her sexy roommate and young son. "Sleepwalk" is easy to watch and hardly experimental, but its story unfortunately goes nowhere. The feeble impact of the scroll is anti-climactic (no budget for special effects, you see) and the script leaves all its mysteries unresolved. What's with the dog? The glowing green eyes? The missing fingers? The background of the two who hired her? Not important, apparently. The ending is frustratingly open, and the film seems to end too soon (at just 75 minutes, it shouldn't have been in such a hurry to finish). Movie buffs will be interested to see Steve Buscemi, a thinner Tony Todd ("Candyman") and Ann Magnuson in the cast before they were well-known. Magnuson has the second biggest part as the roommate (she puts on a heavy French accent), but the other two roles are small.
Eric Broome
Super Reviewer
Sleepwalk Quotes
There are no approved quotes yet for this movie.