Slices
(2008)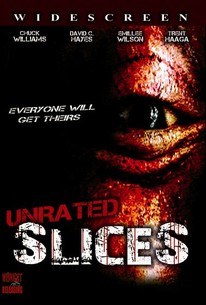 AUDIENCE SCORE
Critic Consensus: No consensus yet.
Movie Info
Five directors deliver five frightful tales in this shocking horror anthology featuring Trent Haaga (Gimmie Skelter), Chuck Williams (Bubba Ho-Tep), and notorious Repulsion rocker Matt Olivo. Set in a dystopian future, "The Exterminator" finds a CEO tasked with reducing the world's population suddenly appearing on the list of "undesirables" to be exterminated. "Dead Letters" finds a washed-up writer seeking to deal with his wife's death by reliving the incident on paper, and "The Range" follows a pair of quick-draw gunmen as they attempt to rid the old west of zombies. The penultimate tale, "Night Scream," shows just what can go wrong when a group of college kids partying at an isolated cabin attempt to assist a damsel in distress, and a matchmaker finds out just how terrifying it can be to pop the big question on an isolated trail in "Turnout."
Rating:
NR
Genre:
Directed By:
Written By:
On DVD:
Runtime:
Critic Reviews for Slices
There are no critic reviews yet for Slices. Keep checking Rotten Tomatoes for updates!
Audience Reviews for Slices
I just want to start this review off saying one thing...I love anthology movies growing up watching Tales from the crypt, Monsters, Twilight Zone, and off course movies like creep show and although not horror the amazing stories series I have become a major anthology junkie. But sadly more than half of them completely suck the most recent good one I had seen before watching Slices was Trick R Treat. Now on to my review of the little hidden treasure known as Slices. As you may of guessed from my little intro there Slices is a anthology of five short stories shown too you through the eyes of an insomniac who has found himself watching a marathon of a horror host television show dubbed "Tales of the macabre" which gave me flash backs to growing up with such people as Elvira and the great Joe Bob Briggs on my television screen introducing me to endless tales of gore and terror. The stories included in this anthology are very original and at the same time pay homage to different styles of horror. You get a little taste of everything from torture horror to classic 80's splatter it's a nice tasting treat for anyone who grew up in the 80's. Out of the five I really only disliked one but for sake of not tainting your viewing of this movie I've decided to keep the one I didn't to myself I'd really like to hear some others takes on this five shorts, so please feel free to leave comments if you happen to give this film a go. Each of the stories are pretty solid and entertaining they kept my attention the entire two hours and thirty minutes. The make up for the most part was pretty good and graphic at times the only make up I thought was bad was in the fourth story the "monsters" I'll call them so as to not spoil anything look like the members of Cradle of filth, but other than that I came away pleased with the makeup and the gore displayed in this movie. Overall when the credits rolled I found myself happy with the time I just spent with Slices I'm very picky when it comes to these types of movies and watch everyone I can get my hands on. This is a fun watch for any fan that enjoys good old fashion low budget horror you'll feel like your back in the 80's before it's over having flashbacks of your Megadeth jean jacket and skin tight pants *throws up the devil horns*. 6.5/10 - Ritualistic The Liberal Dead http://liberaldead.blogspot.com
Ted Brown
Slices Quotes
There are no approved quotes yet for this movie.