Slightly Honorable
(1940)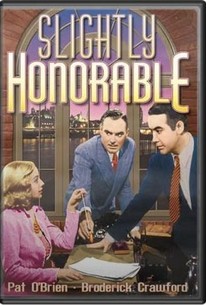 AUDIENCE SCORE
Critic Consensus: No consensus yet.
Slightly Honorable Videos
Slightly Honorable Photos
Movie Info
The successful producer-director combination of Walter Wanger and Tay Garnett served up another winner with Slightly Honorable. Adapted from F. G. Presnell's novel Send Another Coffin, the story concerns the efforts made by corrupt politician Cushing (Edward Arnold) to frame honest attorney John Webb (Pat O'Brien) for the murder of Alma Brehmer (Claire Dodd). In concert with his diligent and apparently slow-witted assistant Rus Sampson (Broderick Crawford), Webb hopes to squelch Cushing's plan by locating the real murderer-who turns out to be a lot closer to Webb than he'd ever imagined. Ruth Terry has one of her best screen roles as a birdbrained nightclub hoofer who helps Webb clear himself. Like many Walter Wanger productions of the period, Slightly Honorable is currently available on the public-domain video market.
Audience Reviews for Slightly Honorable
½
If I wasn't drunk, they never would have caught me Two lawyers have stumbled onto a series of serial killings. As they investigate the murders it quickly looks like they are responsible. As they work feverishly to prove they are not responsible for the slayings, they remember they can uncover the killer as well as prove their innocence. "Don't try anything funny; remember, I'm sober." Tay Garnett, director of Timber Tramps, The Delta Factor, Cattle King, Frontier Circus, Seven Sinner, The Racket, and Wild Harvest, delivers Slightly Honorable. The storyline for this picture is well presented; however, it is the characters that make this film work. The acting is marvelous and the cast includes Pat O'Brien, Edward Arnold, and Ruth Terry. "Call me tomorrow, Pete, I know a good dentist." Slightly Honorable was part of a Thriller Box Set I received two years ago for Christmas from my father. This movie was interesting due to the dynamic characters and brilliant script. The plot wasn't overly creative or well thought out, but at least the storyline is worth following. I do recommend seeing this picture. "I'm not afraid to die but it has to be quicker than the legal way." Grade: B-
Kevin Robbins
Webb and Sampson (O'Brien and Crawford), a pair of rougish attorneys, set their sights on improving the bidding process in state-funded road construction... for the good of democracy, the people, and the $100,000 fee they will collect if their efforts are successful. However, a corrupt political boss (Arnold) doesn't want to see his power weakened, and the pair are soon subjected to threats. The ante is upped big time when Webb is framed for two different murders. "Slightly Honorable" is a comedy/mystery that features a snappy script that manages to keep just the right balance of humor and drama as it unfolds with a lightning pace. It runs by so fast that the viewer almost doesn't have time to realize that the mystery part of the movie is rather poorly done, even if viewed as a spoof. However, the comedy side of things is so good that this hardly even matters anyway. Highlights of the film is the snappy dialogue that sees the stars O'Brien, Crawford, and Terry talking a mile a minute and delivering joke after joke, and the performance by Terry as "Puss", a bubbleheaded young nightclub dancer who developes a crush on Webb and lets us see that in some respects, he is more than just [i]slighly[/i] honorable. "Slightly Honorable" is another one of those movies that doesn't deserve the obscurity that history has relegated it to. Although the film sort of falls apart at the end--not only do the filmmakers do a rather hamfisted job of letting the audience in on who's framing Webb, but the motivations of some of the characters that come to light are groan-inducing--it is mostly a fun, well-executed tale. It reminded me of many of Will Eisner's "The Spirit" tales, both in pacing and execution. Webb, Sampson, the young dancer, and the corrupt officials all are just like some of Eisner's characters (For those of you familiar with "The Spirit" know that I am paying this movie a high compliment with that comparison.) (Speaking of obscurity, Ruth Terry is a gorgeous, energetic actress whose movie career never quite seemed to take off, and by the early 1960s, she had retired. I wonder what happened; she was both cute and funny, and she seemed to have a lot more talent than actresses that kept getting starring roles.) Slightly Honorable Starring: Pat O'Brien, Broderick Crawford, Ruth Terry, Edward Arnold, Claire Dodd, and Eve Arden Director: Tay Garnett
Steve Miller
½
6.5/10. Very enjoyable and entertaining mystery with nice comic touches throughout. Terrific cast, especially the supporting players. Eve Arden is particularly memorable. (She usually is!) Well written with snappy dialogue, fine direction.
James Higgins
Slightly Honorable Quotes
There are no approved quotes yet for this movie.
Discussion Forum
Discuss Slightly Honorable on our Movie forum!