Slightly Scarlet
(1956)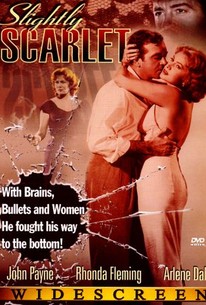 AUDIENCE SCORE
Critic Consensus: No consensus yet.
Movie Info
Slightly Scarlet, adapted from James M. Cain's novel, Love's Lovely Counterfeit, is a slight, though well-crafted mystery. Shot in Technicolor, the film combines color sequences with a moody use of dark shadows to create a spectacular, visually exciting film, though somewhat short on character and action. Ben (John Payne), works for criminal boss Sol Caspar (Ted de Corsia) and is in love with June (Rhonda Fleming), Sol's secretary. Dorothy (Arlene Dahl) is June's sister and becomes romantically involved with Ben also. The lightweight story is predictable in its outcome but is saved by a good performance by Arlene Dahl as June's amoral, neurotic and completely unpredictable sister who is unscrupulous in her pursuit of her sister's lover. Slightly Scarlet, while technically brilliant, is a mediocre, predictable crime melodrama.
Rating:
NR
Genre:
, ,
Directed By:
Written By:
In Theaters:
On DVD:
Runtime:
Studio:
VCI
Audience Reviews for Slightly Scarlet
Much of this is ho-hum, but the melodrama between the two redheads sometimes reaches heights of glorious hysteria.
Michael Troudt
½
Hard to believe this comes from a James M. Cain novel. Not much trace of Double Indemnity or Postman Always Rings Twice here. More melodrama than noir, and too trashy to be good melodrama. The last half hour does have some camp appeal, but the first hour is a boring mess. Plodding storyline, characters acting inconsistently, a couple of ridiculous turns (really, the governor has an interest in this shoplifting case?), lousy score. The good sister/bad sister angle isn't exploited nearly as well as it could be, at least not until the third act, and even then it doesn't hold a candle to Whatever Happened to Baby Jane. It should also be noted that as amazing as John Alton is in black and white, he seems lost when it comes to Technicolor. There appears to be little thought put into the color scheme, besides the red hair. In fact, the most striking visual element would be equally effective (if not more so) in monochrome: the reversal of the black & white dresses on the sisters between the beginning and the end of the movie. John Payne, Rhonda Fleming and Ted DeCorsia all turn in very standard performances, only Arlene Dahl stands out as the kleptomaniac (and part nymphomaniac) bad girl, particularly in her final manic descent. It's not enough to salvage the film that much, though.
Martin Teller
½
Florid potboiler in lurid technicolor. The girls look amazing and are dressed in beautiful dresses that it's somewhat hard to believe Rhonda could afford on her salary as a secretary but then her house is palatial and she has a live in maid so perhaps reality wasn't what they were going for. Arlene Dahl takes her part as a worthless tramp and runs with it. A fun ride if you're a fan of high gloss melodrama.
Slightly Scarlet Quotes
There are no approved quotes yet for this movie.