The Slumber Party Massacre
(1982)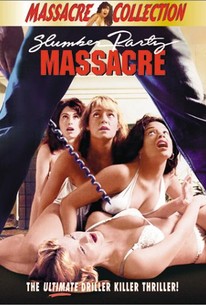 The Slumber Party Massacre Photos
Movie Info
In this horror film, a group of teenage girls gather together for a slumber party, only to be terrorized by a drill-wielding madman. Oddly enough, this movie was written by Rita Mae Brown.
Critic Reviews for The Slumber Party Massacre
Audience Reviews for The Slumber Party Massacre
The Slumber Party Massacre is a true '80s slasher classic. Refreshingly, the film doesn't pretend to be something it's not. It incorporates all of the usual slasher cliches, but with a healthy dose of humor. As a result, it's a lot of fun. Interestingly, the screenplay was written by feminist Rita Mae Brown, who intended for her script to be a parody of the slasher genre. Instead, it was filmed as a straight-forward slasher, so it both follows and subverts the rules of the genre. The guys are weak and ineffectual, with serious manhood issues, and their onscreen deaths are more brutal than the girls'. Most of the girls are likeable, and they're not complete weaklings as they band together to fight back against their attacker. There's even humor to be found in the requisite nude scenes. The camera lingers just a bit too long on one girl's butt, and the dialogue includes "I think your tits are getting bigger," to which a chorus of girls excitedly ask, "Mine?" Another example, the boys answer the door expecting the pizza delivery guy. They say, "what's the damage?" On the other end you hear, "six... so far." "Six, even? Okay."
Jonathan Hutchings
Super Reviewer
Ok, so the original Slumber Party Massacre is by no means one the great and legendary slasher films, but it doesn't really need to be. It's basically Michael Myers with a power drill, if you want to look at it that black and white. I kind of like it that no screen time is spent really explaining the killer. To me it makes the killer more menacing if you don't explain who they are and what they're all about, which is the major problem I have with every film in the Halloween series after the first one. You give the audience that tidbit of information about them, basically make them two dimensional, and you've got yourself a powerful force that seems to be acting on nobody else's impulse but their own. Not some convoluted backstory about a curse on the killer's family that caused him to be the way he is... I'm looking at you Michael Myers. This movie is not that deep. Nowhere near it. It's a generic 80's slasher with tons of boobs, blood and bad dialogue, and that's all that I really wanted from it.
Tim Salmons
Super Reviewer
For a film that was directed by a woman and written by a feminist, 'Slumber Party Massacre' is just as misogynistic as the slice-and-dice pictures executed by men. Glances between women can interpreted as latent lesbianism and a prurient shower scene pans up and down the female bodies like a voyeur. The women aren't entirely helpless though as they easily thwart the drill-obsessed killer (a machete severs the tip of his drill which is symbolic of his manhood). Most of the midsection is fraught with torpid scenes of girls gossiping about boyfriends and French-kissing. Even the spoof elements (the girls are oblivious to a body in the fridge and red is a primary color for the beverages throughout) can't enliven this shoddy B-movie.
Cory Taylor
Super Reviewer
The Slumber Party Massacre Quotes
There are no approved quotes yet for this movie.