L' Argent de Poche (Pocket Money) (Small Change)
(1976)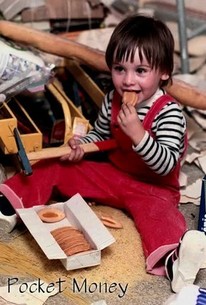 L' Argent de Poche (Pocket Money) (Small Change) Photos
Movie Info
L'Argent de Poche (Small Change) is an episodic comedy drama composed of several sequences that explore childhood in director François Truffaut's signature humanistic style. Filmed in Thiers in South Central France, each vignette is seen from the point of view of a kid from two weeks to 14 years old. There is no real plot, just little scenes flowing together dealing with personal joys and pains of the children in a small town. While most of the issues are simple and lighthearted, some of the kids have a harder time growing up. A few choice moments involve a double date at the movies, brothers who give a friend a haircut, and a toddler who falls from a window. Patrick (Georges Desmouceaux) discovers girls and helps care for his father, Sylvie (Sylvie Grizel) rebels against her parents, and Julien (Philippe Goldmann) comes from a painful home life. While mostly focusing on developing the personal perspectives of children, adults get some screen time to share their wisdom. The conclusion consists of a monologue from the schoolteacher, played by Jean-François Stévenin. ~ Andrea LeVasseur, Rovi
News & Interviews for L' Argent de Poche (Pocket Money) (Small Change)
Critic Reviews for L' Argent de Poche (Pocket Money) (Small Change)
Audience Reviews for L' Argent de Poche (Pocket Money) (Small Change)
Beautifully incohesive coming-of-age film, set in a small French town, that builds its very own world and populates it with characters from different walks of life and their fascinating interactions. Given that growing up is in and of itself its own narrative, the story has a direction from the get-go, and within its timeframe - the last weeks of the school year leading up to the kids' first co-ed summer camp - Truffaut seems to just let the camera run, encompassing the entire experience of growing up in this town in a series of scenes filled with excellent child acting. The title is perfect, in a way, as many of the children are somewhat of an afterthought, seemingly unimportant in their insignificant lives, kind of like the small coins that accumulate in your pocket over time. But as the saying goes, it all spends the same, and what's more, individually, each of these coins moves from unconsidered to precious by film's end. The downside of the growing-up narrative, I suppose, is that it doesn't really end: you grow up, which closes this window, but this kind of story can be somewhat anti-climactic, and can leave the storyteller searching for a way out that's not intrusive or cliche). Truffaut gives in a little by choosing a speech from a caring teacher, but cheap exit or not, it's well-written and well-delivered and stops short of plainly laying out the filmmaker's point. Together, these pennies saved are truly pennies earned, and you will be much richer for the whole of this experience than the sum of the film's parts might suggest. A delightful little film from a masterful director - and, interestingly, as I recently read in an interview with Wes Anderson, a big inspiration for Moonrise Kingdom. Definitely a good time to dust it off again.
Daniel Perry
Super Reviewer
This film depicts episodes from children's lives in a small town in the very center of France. While I watched this film, two things kept recurring in my head. First, Truffaut is so much better when he's dealing with children, Stolen Kisses being an exception. Second, this is so much better than Amarcord, which is a Fellini film that L'Argent de Poche reminds me of. In both Fellini and Truffaut's films, we see no main character except the town's inhabitants, and there are comedic episodes that attempt to convey a "slice of life." But like Amarcord, many of the "comedic" moments aren't especially funny. One is downright ridiculous; I won't give it away, but at the resolution of the Gregory situation, I briefly hated this film, finding it emotionally manipulative and simple-minded. But unlike Amarcord Truffaut has clear thematic purpose. He remembers and conveys the moments of childhood when the cliche of "childhood innocence" rings true, but at the same time, he captures the awkwardness and embarrassment of trying to make one's way in the world without a road map or a trustworthy tour guide. I also found the curious absence of parents interesting, replaced, it seems, with teachers who seem more cautious and exacting than their biological counterparts. And the climactic speech by an educator provides a good thematic conclusion. Overall, I liked L'Argent de Poche, even though there were moments when it tried my patience.
Jim Hunter
Super Reviewer
½
I could watch an entire feature of that little Gregory kid. But not if he keeps falling out of windows. That was not funny.
L' Argent de Poche (Pocket Money) (Small Change) Quotes
There are no approved quotes yet for this movie.