Small Town Murder Songs
(2011)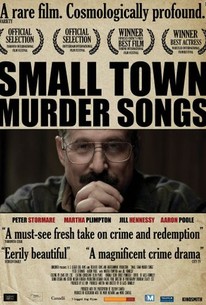 Small Town Murder Songs Photos
Movie Info
A modern, gothic tale of crime and redemption about an aging police officer from a small Ontario Mennonite town who hides a violent past until a local murder upsets the calm of his newly reformed life. -- (C) Official Site
News & Interviews for Small Town Murder Songs
Critic Reviews for Small Town Murder Songs
Audience Reviews for Small Town Murder Songs
A small-town Ontario sheriff in a Mennonite community must confront the demons of his past when his ex-lover's boyfriend is the prime suspect of a murder. Joe Morgenstern of the Wall Street Journal sums up this film perfectly: the film "moves so deliberately, with such confident authority, that every small event takes on cumulative significance." Yes, but the slowness, or in Morgenstern's words, "deliberateness," of the film weighs on its subject. I think it's easy to know that the film knows where it's going, but that doesn't mean that we always do. And the title cards between the film's chapters are wholly unnecessary and do little to advance the plot or clarify the themes. Peter Stormare is very good, creating a strong character out of subtle moments, and the rest of the cast rides on his coattails. Overall, this is a good film, but it's pace can easily drag on the impatient viewer.
Jim Hunter
Super Reviewer
½
"Small Town Murder Songs" starts with Walter(Peter Stormare), a police chief, being baptized. That cannot prepare him emotionally for the discovery of the dead body of a young woman. At least, Detective Washington(Ari Cohen) arrives from the big city to help out. There is a break in the case when Walter recognizes the voice on the 911 tape as being Rita(Jill Hennessy) which leads to Steve(Stephen Eric McIntyre) who Walter had recently had an altercation with. The best thing about the otherwise turgid "Small Town Murder Songs" is how much fun it is to watch Peter Stormare inhabit a character very different from the reprobates he usually plays.(Alas, the same cannot be said for Martha Plimpton.) In this story of a man wanting to escape or at least stop talking about his dangerous past, the main character is given a murky backstory while the mystery is simply glossed over. Even with its scant running time, the movie feels stretched to the limit. At least, the songs are cool.
½
if not for the terrible soundtrack i might have even rated this film a half a star higher. the music didnt fit in almost any scene of the entire film. having said that, this is an excellent small budget character study. in some spots the script left some things unsaid, and with a slightly longer running time the film could have fleshed out a few ideas better, but for a 1 hour and 16 minute movie this little crime story delivered extremely well. stormare was very good in the lead.
Small Town Murder Songs Quotes
There are no approved quotes yet for this movie.