Smile Pinki
(2008)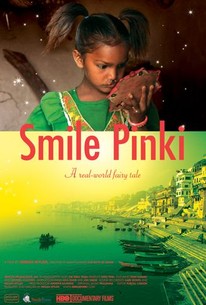 AUDIENCE SCORE
Critic Consensus: No consensus yet.
Movie Info
Director Megan Mylan follows the journey of two impoverished Indian children born with cleft lips as they travel to the hospital that provides free surgery for thousands of children every year. Born into poverty Pinki and Ghutaru also have cleft lips. Though the surgery to fix their condition is relatively simple, the children live in a rural part of India and simply can't afford the common procedure. Things begin to look up for Pinki and Ghutaru, however, when they meet Pankaj, a social worker who travels the rural villages in search of children who would benefit from free surgery.
Critic Reviews for Smile Pinki
There are no critic reviews yet for Smile Pinki. Keep checking Rotten Tomatoes for updates!
Audience Reviews for Smile Pinki
½
Pretty straight forward documentary - well done but hardly remarkable. Somehow this won an Academy Award.
Jeff Dickerson
"Slumdog Millionaire" was not the only India-set film to win an Oscar this past year. "Smile Pinki" won the Oscar for Documentary Short Subject. During the course of this quick and simple film, the audience learns that in India, there are over one million children born with cleft palates. "Smile Pinki" documents the efforts of an Indian hospital specializing in lip and facial reconstruction in finding these affected children in the far corners of India, and having them treated at their facility. The title of this film comes from the name of one little girl, Pinka (or, Pinki), who is among those who's parents are approached by a doctor/spokesman who roams the Indian villages, asking people if they know any children with a cleft palate. When he finds Pinki's father, the family is understandably suspicious of the man's offer: free surgery. All the family has to do is get to the hospital. Pinki, however, is neither the central figure of the film (no case is, really), nor is she the most severe of the cases--and it is natural that the audience would feel even greater emotional connection to the worst of the affected. In many ways, watching "Smile Pinki" is like watching one of those late-night commercials where you see children in Africa who are malnourished and have flies swarming around them. I say that not to sound insensitive, but to admit that "Smile Pinki" was, from a filmmaking standpoint, no more special than a good piece for a show like "Dateline NBC." It was a news report, and in no way artistically done. And for my money, there was a missed opportunity in not further diving into the struggle each impoverished family encountered just in getting their child to the hospital to be operated on! To me, this was the most harrowing and effective part of the story. Each family is required to provide transportation to the hospital and pay for their food during a seven-day hospital stay. In Pinki's case, she and her father must travel on foot because there isn't enough money to get them there. When you consider that this three hour-plus walk is undertaken on the good faith presumption that the offer for free surgery is legitimate, the journey is that much more inspiring. "Smile Pinki" doesn't seem interested in the in-depth or providing any answers, such as: who is funding these operations...so numerous that when the children arrive, they must take numbers and be assigned a surgery date? It seems content in simply telling viewers that this condition is a serious one in India and that there is a hospital that is trying to do something about it. I prefer documentaries that take things a little deeper than that. If you ask me, the Academy's excitement over all things India caused them to overlook the far superior short: "The Witness-From the Balcony of Room 306," a gut-wrenching, intellectual and spiritual first-hand account of the assassination of Martin Luther King, Jr. at the Lorraine Hotel in Memphis. This is not to say that "Smile Pinki" won't affect you, won't move you, won't make you sad for these families (who, by the way, all feel cursed and punished by God when their children are born this way). It's just that this well-intentioned film could have said a bit more.
Keith Carlson
Smile Pinki Quotes
There are no approved quotes yet for this movie.
Discussion Forum
Discuss Smile Pinki on our Movie forum!