Smothered: The Great Smothers Brothers Censorship Wars
(2002)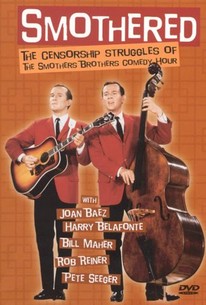 AUDIENCE SCORE
Critic Consensus: No consensus yet.
Movie Info
In February 1967, a comedy folksinging team comprised of siblings Tom and Dick Smothers assumed the hosting chores of a Sunday-night CBS variety program. Before long, The Smothers Brothers Comedy Hour was one of the network's most popular series, managing to hold its own against the formidable NBC competition, Bonanza. Gradually, the series evolved from an innocuous hour of music and laughs into a weekly political forum, largely driven by the antiwar sentiments of Tom Smothers and fueled by such young, hip writers as Mason Adams, Rob Reiner, and Steve Martin. The brothers began inviting "chancy" performers onto their series, among them the long-blacklisted Pete Seeger and singer-activist Joan Baez. Not surprisingly, the hidebound CBS executives balked at the series' incessant anti-establishment message, and the brothers found themselves at the mercy of the network censors. Thus began a well-publicized "David and Goliath" battle between the Smothers boys and the "Big Eye" network, culminating in the abrupt cancellation of The Smothers Brothers Comedy Hour in mid-1969. Relying heavily upon interviews with the participants in this imbroglio, not to mention rare (and long-suppressed) taped highlights from the controversial series, the two-hour TV documentary Smothered made its cable bow over the Bravo network.
Critic Reviews for Smothered: The Great Smothers Brothers Censorship Wars
There are no critic reviews yet for Smothered: The Great Smothers Brothers Censorship Wars. Keep checking Rotten Tomatoes for updates!
Audience Reviews for Smothered: The Great Smothers Brothers Censorship Wars
I have a new respect for the Smothers Brothers...
½
I am unsure about the video, I actually haven't gotten to see it, but I do know these two are a great act... another pair to incorporate into my world later on.
Kevin O'Flaherty
I studied banned books in college. What I don't know about censorship in the US almost isn't worth knowing. This, however, is not the aspect of censorship with which I am familiar. This is TV--[i]The Smothers Brothers Comedy Hour[/i]. I studied literature. Still, I did in fact know about this. I know they were investigated by HUAC for displaying a Mothers' Day card reading, "War is unsafe for children and other living things," which had not been approved by HUAC. Which was the first I knew that HUAC was approving and disapproving Mothers' Day cards, so. Several of America's great humourists of the second half of the 20th Century were at one point writers for the show--Rob Reiner and Steve Martin, notably. Among their guests were great musicians such as Joan Baez and Pete Seeger--and the Who, if you care for the Who. (I don't.) They were hired to be hip and controversial. They were hip and controversial. They were fired. Welcome to American TV at its finest, kids. Long ago, the US Supreme Court decided that the motion picture industry was a business, not art, and therefore not covered under the First Amendment. (Yeah, I don't get it, either.) Presumably, TV is considered the same thing. This is why the FCC has the ability to prevent things from airing, such as swearing and nudity. We in the US have always wanted to be seen as the shining light of freedom, but we seem to forget that we're perfectly willing to give up some of our rights if we don't agree with what's being said. The simple fact is, people have just as much right to disagree with you--and the government--as they do to agree with you. That's what the First Amendment is all about.
Edith Nelson
Smothered: The Great Smothers Brothers Censorship Wars Quotes
There are no approved quotes yet for this movie.
Discussion Forum
Discuss Smothered: The Great Smothers Brothers Censorship Wars on our Movie forum!