Snakehead Terror
(2004)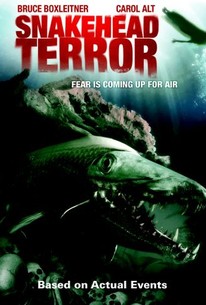 AUDIENCE SCORE
Critic Consensus: No consensus yet.
Movie Info
Cashing in on the real-life influx of pesky "snake-head" fish in Midwestern lakes, this inexpensive sci-fi epic is set in a small Maryland fishing community called Cultus Lake. A dangerous strain of mutated snakeheads has decimated the lake's fish population, whereupon Doc Jenkins (played by X-Files' William B. Davis, aka "Cigarette-Smoking Man"), the shady owner of a nearby chemical plant, fills the water with pollutants to kill off the invaders. At the same time, the local leaders, desperate to pull Cultus Lake out of a severe financial slump, has dumped human growth hormones in the lake to improve the stock. You guessed it: Both the chemicals and hormones succeed only in making the snakeheads even larger and more ferocious--and worse still, they are now leaving the lake and crawling around on dry land, in search of human blood! Caught in the middle of the crisis is Sheriff Patrick James (Bruce Boxleitner) and the standard-issue beautiful female biologist Lori Dale (Carol Alt). An amalgam of every cheesy CGI effect ever seen on the many Jaws ripoffs that have proliferated as made-for-cable and direct-to-video thrillers, Snakehead Terror received its biggest audience when it was telecast by the Sci-Fi network on March 13, 2004.
Critic Reviews for Snakehead Terror
There are no critic reviews yet for Snakehead Terror. Keep checking Rotten Tomatoes for updates!
Audience Reviews for Snakehead Terror
½
Snakehead Terror is an average movie for the SyFy Channel. It has a predictable Jaws like storyline and goofy effects. While it does settle with mediocrity and dull acting, it does have a rather gory climax and some fun sequences here and there. Pros: Somewhat decent effects, some practical gore, Chelan Simmons is very cute, and it goes by quickly. Cons: Low budget Jaws ripoff, lacks fun, dull acting.
Omar Maldonado
½
An OK SyFy flick with weak thrills and gore.
Jacob Palacio
Super Reviewer
Like Piranha but with the reveal at the end of the movie instead of the beginning. Oh and not funny and no nudity, lame.
Ken Stachnik
Super Reviewer
Snakehead Terror Quotes
There are no approved quotes yet for this movie.
Discussion Forum
Discuss Snakehead Terror on our Movie forum!