Snow White and the Huntsman (Extended Version)
(2012)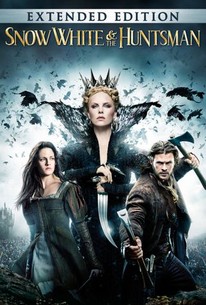 AUDIENCE SCORE
Critic Consensus: No consensus yet.
Movie Info
From the Producer of Alice in Wonderland comes a new vision that turns a legendary tale into an action-adventure epic. The evil Queen Ravenna (Academy Award (R) winner Charlize Theron) will rule forever if she can take the life of Snow White (Kristen Stewart), so she dispatches the Huntsman (Chris Hemsworth) to track her down. But the wicked ruler never imagined that the Huntsman would train the girl to become a brave warrior, skilled in the art of war. Filled with intense battles and spectacular visual effects, Snow White & the Huntsman is a thrilling experience that "shouldn't be missed" - Shawn Edwards, Fox-TV.
Rating:
NR (for intense sequences of violence and action, and brief sensuality)
Genre:
, , ,
Directed By:
Written By:
In Theaters:
On DVD:
Runtime:
Studio:
Universal Pictures
Cast
Critic Reviews for Snow White and the Huntsman (Extended Version)
There are no critic reviews yet for Snow White and the Huntsman (Extended Version). Keep checking Rotten Tomatoes for updates!
Audience Reviews for Snow White and the Huntsman (Extended Version)
½
I think that Chris Hemsworth was a great choice for playing the Huntsman I find the mirror a little Bizarre. It does not look like the Mirrors seen before in Snow White or Shrek films. The troll looks much larger than any troll I have ever imagined. The ageing of SnowWhites step mother and brother looks odd. This film presents a much darker version of Snow White seen in other versions I have seen. Both darker in the tale as far as how it is told not just the circumstances of Snow White but also the Kingdom and how the film is portrayed in a darker environment. The story does not follow completely the typical storyline told of Snow White. I was surprised to see Snow White imprisoned in a North Tower from an early age till the time she came of the age of being the fairest of them all. For example the drawfs are the ones who capture Snow White & The Huntsman rather than Snow White finding her way isn't the drauwfs home. I thought it was interesting one they entered the fairy land how drastically the environment altered to a much brighter one. The drauwfs in this film are seen as much tougher and stronger rather than clumsy like the Disney version. In this film one of the drawfs dies and we did not see them mining although it is mentioned by one of the drawfs that they once mined prior to Snow White's Fathers death. There are much more deaths & fight scenes in this film than any Snow White film I have ever seen. Every character in this film has a dark tale compared to every version I have seen. How Snow White gets the apple is different compared to how I recall in other versions. Snow White gets it by the stepmother disguising herself as the Prince William rather than an old Woman. Also there is no drawf home seen in this film. The way which Snow White is revived is different from other Snow White stories. This film Is very different in the fact there is a castle battle towards the end of the film. I found the Stepmother very odd in her powers and how she was able to stay young. In some sense I liked this version over the others because the characters are more believable, there is a more gray zone present within all the characters & it is not all black & white. What I did like about this film was that a lot of the film looked like it was filmed at real locations and what is in CGI mostly looks like it is creatures, The mirror as the Step mother saw it, and spells. But a great portion looks fairly real when at all possible. Which is a preference I have over trying to make a great portion of the film CGIed including environments.
STCENTERPRISE .
I really enjoyed this movie and I honestly feel like kristen stewart really improved her acting since she did the twilight films, or a at least just in this movie.
ashley bonilla
½
Got this movie because of the evil queen acting. Snow white can't act worth a penny, sorry Twilight fans, she is horrible. It was very hard to watch her "speech" towards the end there, very bad. Overall, the queen is so worth putting up with the bad acting chick.
Mark W
Discussion Forum
Discuss Snow White and the Huntsman (Extended Version) on our Movie forum!
News & Features