The Snows of Kilimanjaro
(1952)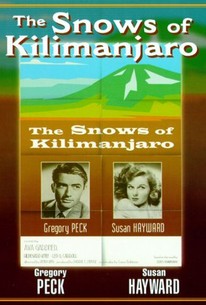 The Snows of Kilimanjaro Videos
The Snows of Kilimanjaro Photos
Movie Info
In this film, based on Ernest Hemingway's short story, Gregory Peck plays a character based on Hemingway crony F. Scott Fitzgerald. While hunting in the African mountains, Peck is seriously wounded. In the few hours he has left, Peck reflects upon what he considers a wasted life.
Rating:
G
Genre:
, ,
Directed By:
Written By:
In Theaters:
On DVD:
Runtime:
Studio:
20th Century Fox
Audience Reviews for The Snows of Kilimanjaro
Can't believe the studio mutilated Hemingway's masterpiece in this way. Pasted a happy ending on and omitted the true ending. Zanuck was an idiot. Disgusting.
Kelly Arkin
½
2 Oscar nominations. The recollections of Gregory Peck of his past romances are told here as he lay dying, as in the book by Hemingway. But the studio wouldn't have Peck die that way and Hemingway himself despised Hollywood for it. While the RT critics loved this, the RT community had problems with it. [img]http://upload.wikimedia.org/wikipedia/commons/thumb/2/2a/Thesnowsofkilimanjaro-Peck.jpg/220px-Thesnowsofkilimanjaro-Peck.jpg[/img] Gregory Peck has numerous flashbacks SEE the trailer here: http://www.youtube.com/watch?v=9xpczzyaytU Killing a rhino in Africa is one of man's lost past-times, so for the modern audience this film could be dated. Stock footage of African wildlife and bullfights shifts back and forth to some studio set. [img]http://upload.wikimedia.org/wikipedia/commons/5/52/Ava_Gardner_Snows.jpg[/img] Ava Gardner and Greg Peck meet "The story centers on the memories of disillusioned writer Harry Street (Gregory Peck) who is on safari in Africa. He has a severely infected wound from a thorn prick, and lies outside his tent awaiting a slow death. The loss of mobility brings self-reflection. He remembers past years and how little he has accomplished in his writing." The movie has mixed reactions to it so try it out for yourself. SEE the film here: http://www.youtube.com/watch?v=8HCNYzrE2f8 [img]http://upload.wikimedia.org/wikipedia/commons/thumb/6/65/Snows_kilimanjaro.jpg/220px-Snows_kilimanjaro.jpg[/img] Peck and Susan Hayward begin the film REVIEWS by those like us: 90% Peck and Gardner give their all and are believable but lots of overacting and dated conversations, but the story does come through. Very watchable. 70% the dialogue in "the snows of kilimanjaro" is so witty and quick, it's easy to miss some brilliant lines, but if you're paying attention, you're sure ... 80% The Snows Of Kilimanjaro is a thoughtfully slow exploration of an error-filled life. As in big game hunting, knowing when to take a shot and when to back away comes naturally for some, but is a lifelong pursuit for others. [img]http://upload.wikimedia.org/wikipedia/commons/thumb/e/e2/Thesnowsofkilimanjaro19bd9.jpg/220px-Thesnowsofkilimanjaro19bd9.jpg[/img] NOTES: 1 Humphrey Bogart, Richard Conte and Marlon Brando were all reported to be under consideration for the male lead, as was Dale Robertson. 2 Helped by a star-studded cast, the film was one of the most successful films of the early 1950s and earned $12.5 million at the box office, very high for that period. 3 The film was nominated for two Academy Awards; for Best Cinematography and Best Art Direction. 4 The film was much acclaimed by critics, although some vary in their opinion of it, ranging from "simply plodding" to "much-maligned". [img]http://upload.wikimedia.org/wikipedia/en/1/14/The_Snows_of_Kilimanjaro.jpg[/img] Gregory Peck as Harry Street Susan Hayward as Helen Ava Gardner as Cynthia Green Hildegard Knef as Countess Elizabeth Emmett Smith as Molo Leo G. Carroll as Uncle Bill Torin Thatcher as Mr. Johnson Marcel Dalio as Emile Leonard Carey as Dr. Simmons [img]http://4.bp.blogspot.com/-dGoLycHQf7w/UZl8jYpLitI/AAAAAAAAIs0/v3EMqlbL93I/s320/The+Snows+Of+Kilimanjaro+1.jpg[/img] The breakup Directed by Henry King Produced by Darryl F. Zanuck Screenplay by Casey Robinson Based on The novel The Snows of Kilimanjaro by Ernest Hemingway Music by Bernard Herrmann Cinematography Leon Shamroy Editing by Barbara McLean Distributed by Twentieth Century Fox Release dates August 18, 1952 (1952-08-18) Running time 117 minutes Country United States Language English Box office $6.5-$12.5 million [img]http://www.julienslive.com/images/lot/9416/94168_0.jpg[/img]
monsieur rick
i first saw this as a kid with my mom and i had no idea what was going on since most of the story is told thru flashbacks.
Greg Wood
The Snows of Kilimanjaro Quotes
There are no approved quotes yet for this movie.
Discussion Forum
Discuss The Snows of Kilimanjaro on our Movie forum!