So Dear to My Heart
(1948)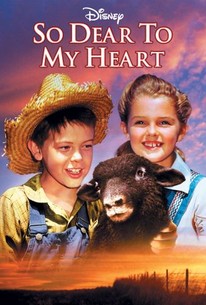 AUDIENCE SCORE
Critic Consensus: No consensus yet.
So Dear to My Heart Photos
Movie Info
Like Disney's earlier Song of the South, So Dear to My Heart peppers its live action with animated sequences. In this film, however, it is the "live" story that lingers longest in the memory. Set in 1903, the film takes place on the small Kincaid farm. Twin sheep are born in the barn: one white, one black. When the mother sheep rejects the black lamb, young Jeremiah Kincaid (Bobby Driscoll) adopts the animal, naming it Danny, after the great trotting horse Dan Patch. Danny grows up to be quite troublesome, and Jeremiah's grandmother (Beulah Bondi) wishes that the boy would get rid of his pet. Jeremiah's only ally is kindly blacksmith Uncle Hiram (Burl Ives), who encourages the boy to enter Danny in blue-ribbon competition at the county fair. Granny is against this notion, so Jeremiah sets about to pay his own way. On a stormy night, Danny runs away; Jeremiah is kept from searching for the lost sheep by Granny, who now believes that the boy wants to enter the state fair contest for selfish reasons rather than out of love for his pet. She further warns that the Lord may not let Danny survive the night. The next day, however, Danny returns. Remembering Granny's remonstrations, Jeremiah now states that he won't attend the county fair, having promised the Lord that he'd forget about the competition if Danny was spared. Moved by this unselfishness, Granny softens her own stance, claiming that she'd promised the Lord that Jeremiah could go to the fair if the lamb returned alive. The story reaches a warm-hearted climax at the fair; Danny doesn't win, but his ultimate prize is far more meaningful than any blue ribbon. The isolated animated sequences spring from Jeremiah's scrapbook, illustrating such homespun philosophies as "stick-to-it-tivity" and "it's whatcha do with whatcha got." So Dear to My Heart yielded a hit song, "Lavender Blue," which co-star Burl Ives retained in his repertoire until his dying day.
Audience Reviews for So Dear to My Heart
So Dear to My Heart is a charming film with appealing characters and entertaining animated segments.
Daniel Peoples
One of Disney's precious movies that blends animation into a live action feature. I always found it dull as a kid, but as an adult I think it's wonderful, as I seem to appreciate Americana more. The film also has some really awesome yet underappreciated songs in the spirit of Disney. (First viewing - Childhood)
Adam R
★★★ (out of four) It isn't one of Disney's best moments, but this little film is still pretty darn cute. Unlike the earlier "Song of the South", the live action parts are more memorable here. The animated characters are largely forgotten today. On a small farm in 1903 two baby sheep are born. One is black and one is white. The mother rejects the black one. A young boy tries to raise it. The rascally lamb grows up and the boy decides to enter it in the fair, but it runs away. Burl Ives is always great. This is a minor Disney film, but still not without its charms. [IMG]http://img.photobucket.com/albums/v48/Zeppo1/SoDeartoMyHeart.jpg[/IMG]
Steve Smith
So Dear to My Heart Quotes
There are no approved quotes yet for this movie.
Discussion Forum
Discuss So Dear to My Heart on our Movie forum!