So Proudly We Hail!
(1943)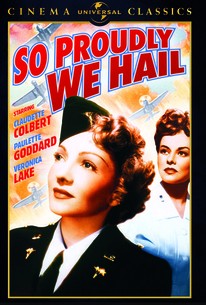 AUDIENCE SCORE
Critic Consensus: No consensus yet.
Movie Info
Paramount's So Proudly We Hail, like MGM's Cry Havoc, is a tribute to the Red Cross nurses trapped behind enemy lines in the early days of the Pacific war. Claudette Colbert is the self-sacrificing head nurse, struggling to minister to the wounded and to keep her staff (including Paulette Goddard, Veronica Lake and Barbara Britton, all of them giving better than usual performances) from buckling under the pressure. Taking into consideration the regular fans of the film's female cast, the producers thoughtfully include several scenes in which the ladies pursue their romantic lives. The story culminates with the fall of Bataan, ending on a resigned but optimistic note; this finale was designed to lift the spirits of the audience, which in 1943 wasn't so certain as Hollywood of final victory. So Proudly We Hail was not only effective propaganda (though not as effective as Cry Havoc), but it also enabled Paramount to introduce its new crop of male hunks--including the estimable Sonny Tufts.
Critic Reviews for So Proudly We Hail!
All Critics (2) | Fresh (2) | Rotten (0) | DVD (2)
Paramount went out of its way to deglamorize its stars, Claudette Colbert, Veronica Lake and Paulette Goddard as WWII army nurses, but even by the era's standards this well-intentioned tribute was fake, prompting critic James Agee's nasty review.

Creates real tension, and as long as you can live with 1940s-style special effects, this is a reasonably effective war movie from the unique perspective of army nurses.

Audience Reviews for So Proudly We Hail!
½
72% "Because we believed we were the world. That the United States of America was the whole world. Those outlandish places: Bataan, Corregidor and Mindango. Those arent Americain names. No they're just American graveyards."-Lt. Janet 'Davy' Davidson (Claudette Colbert) Here's one for America...buy war bonds. I love the scene in which Veronica Lake caters the Japanese, with a pineapple (I'm not talking about fruit).
FilmGrinder Stone
½
Three words: Claudette Colbert, Veronica Lake & Paulette Goddard. Oh wait, that's six words (seven if you count the "&"). Gloriously sentimental and probably the most patriotic film I've ever seen.
Randy Tippy
Super Reviewer
The movie that made me fall in love with old movies. Propagandic? Perhaps, but also filled with social relevance and the more I learn about what went on behind the scenes and what wasn't said or what part of these women's lives wasn't told, the more I appreciate the importance of this movie both as a depiction of society at the time and as a pathway towards learning about the reality of women's lives during the war. I recommend watching this movie followed by "Three Came Home", which also stars Claudette Colbert but was made after the war and based on a novel of a British POW in the South Pacific. I also recommend reading "We Band of Angels", the 'real' story of the surviving nurses of Bataan... note with particular interest how negatively they view this movie. PS: An interesting note about this movie is that one of the male leads is John Reeves ... the father of Christopher Reeves and the original Superman. Bear in mind when you hear the Superman references during the movie ;) Also, this is the only role I've seen Veronica Lake in where I felt she was a true actress. Its worth seeing if only for that. Last note: the 'special effects' in this movie have always impressed me.
Kate Caldwell
So Proudly We Hail! Quotes
There are no approved quotes yet for this movie.
Discussion Forum
Discuss So Proudly We Hail! on our Movie forum!