So Undercover
(2012)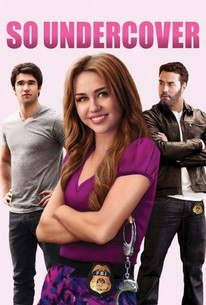 Movie Info
When the FBI hires her to go undercover at a college sorority, Molly Morris (Miley Cyrus) must transform herself from a tough, streetwise private investigator to a refined, sophisticated university girl to help protect the daughter of a one-time Mobster. With several suspects on her list, Molly unexpectedly discovers that not everyone is who they appear to be, including herself. -- (C) Weinstein
Critic Reviews for So Undercover
Audience Reviews for So Undercover
½
I don't know what I expected watching a chick flick staring Miley Cyrus. The script is so cheesy and those stunts were agonizing to watch. Worst movie I've seen this month.
Farah Rizq
½
I was in the mood for a bad movie, and this looked just the thing! At the beginning, the acting was so wooden I suspected I had picked a level of awful even I wouldn't enjoy, but it does improve (a bit!). This seemed similar to movies such as House Bunny. Not all that good, but slightly amusing in a check out the dumb girls type of way. Miley is not all that convincing as a PI, and I'm not entirely sure she can act. She's kind of like Melissa Joan Hart. Not likely to win any awards, and a bit hammy, but looks pleasant onscreen and it sort of works in this PG type of genre
Nicki Marie
Super Reviewer
½
So Undercover was like so totes amazeballs. Actually, not at all. I actually only wanted to see the movie because I was curious to see Kelly Osbourne in a movie. She didn't do too bad. He part wasn't very big though. But lets get to all the annoying things that made this film so craptastic. Miley dear, I will keep hoping that one day you will make a decent movie and will become a better actress. I love an under dog. Jeremy Piven is Jeremy Piven. I don't really see the difference from any character he ever plays. He's a one note pony show. If that makes any sense. It's late, I am tired. So more than likely, this will not make much sense and I might need to rewrite it. But I am pretty lazy and probably won't. The only part I liked was when Armon was flying high on the cotton candy mountain flying on the unicorns tears. I know you don't understand what I just said. So maybe that will make you a bit curious to see the movie just to figure it out. But then again once you get a look at the talent that is lined up for this flick and see who the director is, you might pass just for that. I wish I did. But I had little people over who enjoy these Miley films. I was no match to their persuasion. They always win...
♥˩ƳИИ ƜѲѲƉƧ♥
Super Reviewer
So Undercover Quotes
There are no approved quotes yet for this movie.
Discussion Forum
Discuss So Undercover on our Movie forum!