La Peau douce (The Soft Skin)
(1964)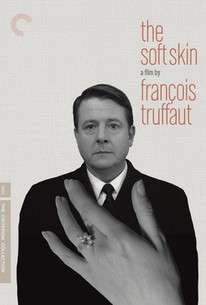 La Peau douce (The Soft Skin) Photos
Movie Info
Francois Truffaut directed this simple tale of revenge and adultery which features an exceptional musical score by Georges Delerue. The story concerns a love affair between successful literary magazine editor Pierre Lachenay (Jean Desailly) and alluring airline stewardess, Nicole Chomette (Francoise Dorleac). They meet on a flight to Lisbon, where Pierre is scheduled to deliver a lecture. When he returns to Paris, they continue their affair, but find it is difficult to set up their clandestine trysts, so Pierre arranges a lecture trip to Riems, where they can be together. In Riems however, Pierre finds it difficult to keep the affair a secret from his lecture sponsors. Upon his return to Paris, his wife Franca (Nelly Benedetti), suspicious her husband is having an affair, quarrels with Pierre, who leaves her and asks Nicole to marry him. Nicole refuses his proposition and Pierre attempts to reconcile with his wife. But Nelly, with a gun in her bag, is en route to surprise Pierre at his favorite restaurant for a final confrontation. ~ Paul Brenner, Rovi
News & Interviews for La Peau douce (The Soft Skin)
Critic Reviews for La Peau douce (The Soft Skin)
Audience Reviews for La Peau douce (The Soft Skin)
"The Soft Skin" is a beautifully shot tragedy, featuring nuanced performances from Jean Desailly and Françoise Dorléac plus Georges Delerue's exquisite score (melancholy flute everywhere). But did such a simple story really need to be stretched to 113 minutes? This film could have been 20 minutes shorter, easy. Desailly plays a celebrity author who's much in demand on the lecture circuit. He has a wife and a young daughter. He meets stewardess Dorleac during a flight to Lisbon. They begin a loving affair, but we know it's only a matter of time before his wife finds out and raises a ruckus. Really, that's just about the whole plot. "The Soft Skin" has only three substantial characters and a standard story, yet somehow it extends to nearly two hours. Blame this on too many belabored depictions of eating, drinking, driving, phone calls, hotel check-ins and trivial conversation. And yet despite the leisurely pace, the script communicates almost nothing about why the lovers are so drawn to each other. We know that he's famous and she's gorgeous, and that such surface traits could create a mutual attraction. Anything else?
Eric Broome
Super Reviewer
La Peau douce (The Soft Skin) Quotes
There are no approved quotes yet for this movie.