Sol Goode
(2001)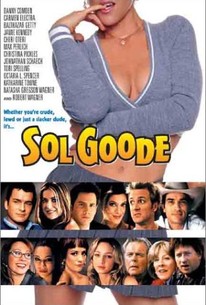 AUDIENCE SCORE
Critic Consensus: No consensus yet.
Movie Info
An aging hipster finds that there may be more to life than good looks and fast cars in this introspective comedy from first-time director Danny Comden. Twenty-something Los Angeles womanizer Sol Goode (Balthazar Getty) has been gliding through life thanks to solid genes and a quick wit, but when his car is trashed and the shadow of eviction forces him to consider getting a real job, he slowly begins to realize that some soul searching is in order. Eschewing his unfulfilling ways in a bid to find true happiness, Sol finds himself increasingly attracted to his best friend Chloe (Katharine Towne), who is all too aware of Sol's loose interpretation of the word "relationship." Will Sol ever be able to convince Chloe that he has truly changed and his feeling for her are genuine, or will his past remain a roadblock to the only means of happiness he knows?
Critic Reviews for Sol Goode
All Critics (3) | Fresh (1) | Rotten (2) | DVD (3)
The inimitability of cult hit "Swingers" and the madcap hilarity of "American Pie"..a witty, vivacious teen romp

I know what you're thinking: Balthazar Getty! Carmen Electra! Tori Spelling!? This movie's gonna rock!

Audience Reviews for Sol Goode
Not a serious film but is a 90's version of an 80's movie in my mind. All of my friends have seen it and still quoate lines from it.
Jeff Heruth
5.5/10. Not too bad. Very much a hit and miss film, some of the gagsare quite funny and some simply do not work at all. Natasha Gregson Wagner is particularly good, the cast in general though is fine.
James Higgins
I saw this movie on Showtime this morning. I dont think this was ever released.........it may have but in a limited showing. Overall I loved this movie for many reasons. For one the comedy in this was great. I cant think of another movie that i would classify as a guy romantic comedy. The whole screenplay in this was really weird instead of a group of women complaining about men for an hour and half we have a group of 4 guys talking about guy things. I would definently not recommend this movie if you going to view it with your girl just because their is some "extreme" guy humor if you know what i mean. Overall a good view and definently worth your time.
Jason Wayne
Sol Goode Quotes
There are no approved quotes yet for this movie.
Discussion Forum
Discuss Sol Goode on our Movie forum!