Solar Crisis
(1993)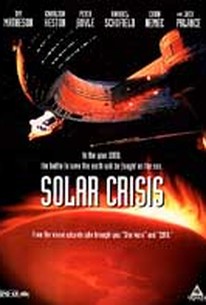 AUDIENCE SCORE
Critic Consensus: No consensus yet.
Movie Info
Rating:
PG-13
Genre:
Directed By:
On DVD:
Runtime:
Critic Reviews for Solar Crisis
Audience Reviews for Solar Crisis
Todd Smith
Super Reviewer
When I had first heard of "Solar Crisis" and the load of the cast, I wondered why I had never heard of a movie with such a big cast before. Then I saw it. NOW I KNOW. Oh the hilarity! Oh the joy! Another film that is so bad it's good! Or, so I thought. In actual fact, this one misses the "so bad its good" phase and goes, sadly, straight to the "could have been so bad its good, but they screwed it up and made it plain bad". -SPOILERS- For a start its way too long. Cut half an hour and it might have been more endurable. Then put in such ludicrous plots as "the man who is sabotaging the mission to save the Earth, because he has all the food stockpiled and he'll be rich if the mission fails!"Duh! Or the "talking bomb" plot device last seen in Dark Star. Guess what....just like in Dark Star; the bomb has a malfunction.....hmm... Add in a dash of "we can't act our way out of a kindergarten play" and you have Solar Crisis in a nutshell. And the effects, while good, are pretty underwhelming; we're talking about the imminent destruction of the planet Earth if a team of scientists and soldiers cannot deflect a deadly solar flare. But other than shouting, sweating and a red glow about everything, there's no real feel of emergency. The ending is a sequence copied from (but mercifully shorter than) the end sequence from 2001. One star, mostly for lost opportunities and bad career moves. I wonder how Alan Smithee keeps his job doing junk like this?
josh callis
Solar Crisis Quotes
There are no approved quotes yet for this movie.