Some Fish Can Fly
(1999)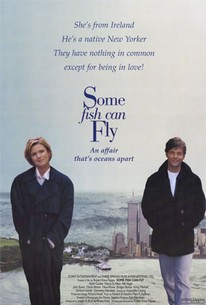 AUDIENCE SCORE
Critic Consensus: No consensus yet.
Movie Info
Narrator: "I think it goes back to Shakespeare's Anthony and Cleopatra, Anthony is fighting Caesar at sea for control of the known world, and Anthony's girlfriend Cleopatra is in a boat nearby. Just when it looks like Anthony is getting a slight advantage over Caesar, Cleopatra turns her boat around and takes off. What does Anthony do? He turns his boat around and chases after Cleopatra, deserting his own army. He'd rather chase Cleopatra than conquer the world."

"It was ten years ago that I flew to Cork City, Ireland, just before Christmas.

I was chasing Nora Murphy, the woman I was engaged to."

SOME FISH CAN FLY is a love story that follows the romantic comings and goings of KEVIN, a New Yorker, and NORA, a woman from Ireland. The film spans ten years in their relationship, beginning on the night they met, nine months before Kevin's Christmas visit. What is unusual in terms of structure is that at some point Kevin decided to make a movie about what happened with Nora; this is the subplot of the film. We move back and forth in time between the love story, and Kevin's attempt to tell it. Both are narrated in the present.

Kevin meets Nora on a half-baked blind date with his old friend Z. Despite getting off to a rocky start, there is a mutual attraction. Nora comes back to Kevin's apartment for what turns into a seven hour kiss; "I had never kissed anything for seven hours." So begins their relationship.

We segue to several years later. We don't know what happened, but Kevin is full of plans to make a film about Nora. With his friend Chris, they set about raising the money.

Meanwhile, Nora and Kevin begin to get involved but the handwriting is on the wall; she's returning home soon. Moreover, neither is enamored with the other's country. But the more they try to break it off the more hopelessly they fall in love. Finally Kevin proposes, Nora accepts; then she promptly heads back to Ireland. The rest of the movie is about how they try to make it work against the odds.

Without giving away the ending, through the interweaving of the two narratives, the film addresses other issues, including the nature of love and the nature of art. Form and content, life and art, are folded into each other. The film concludes in the near present, but we are still not sure what will happen after the story ends. Intrinsically, SOME FISH CAN FLY is a story of trying to make it turn out right. Occasionally, some fish do fly; sometimes, love does conquer all. -- © Artistic License Films
Critic Reviews for Some Fish Can Fly
Audience Reviews for Some Fish Can Fly
There are no audience reviews yet. Hurry, submit your review so you can be first!
Discussion Forum
Discuss Some Fish Can Fly on our Movie forum!
News & Features