Some Mother's Son
(1996)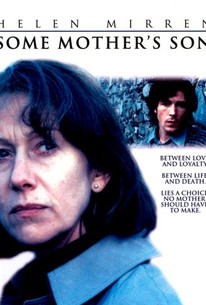 Movie Info
A 1981 hunger strike in a Belfast prison is the historical inspiration for the drama Some Mother's Son, which attempts to focus on the personal dimensions of the event through its portrayal of the families of the striking prisoners. Directed by Terry George, co-author of In the Name of the Father, the film is anchored by Helen Mirren's performance as Kathleen Quigley, an educated, thoughtful schoolteacher who feels the Irish-English conflict is remote from her life until her son is arrested for his involvement with the Irish Republican Army. Yet while she supports her son and works to save his life, Kathleen nevertheless maintains her disdain for violence. This is in great contrast to Annie Higgins, the mother of Gerard's collaborator, who wholeheartedly embraces the IRA's mission. Despite their differing philosophies, the women form an uneasy bond over the suffering of their imprisoned sons. Kathleen finds herself increasingly politicized but finds herself facing a moral dilemma when the prisoners begin a hunger strike. As Gerard's next of kin, it is her right to agree to intravenous feeding should her son enter a coma; however, many people, including Annie, would see such as an act as betrayal of the strike, leaving Kathleen with a choice between saving her son's life and respecting his cause.
Critic Reviews for Some Mother's Son
All Critics (16) | Top Critics (7) | Fresh (11) | Rotten (5)
If Son were as strong in its storytelling as its characters are in their convictions, it would be more than well-acted political soap.

Riveting political drama about the importance of conscience and following the imperatives of the heart.

Spirituality and Practice
Audience Reviews for Some Mother's Son
½
Gives a fairly good insight into the ' H Block ' prisoner story but not enough attention to detail really. I think there should be a more biographical movie made about this story and Bobby Sands and the other POWs. Great actors all around in this one however. If you dont know about this story or the H Block prisoners , this film is a good way to start your research. Not too complicated,,,not too boring. Makes you think!
stacy pulliam
½
This is a great film that I can't help but watch every now and then.
This was a very touching movie. I really enjoyed it in the sense that it really opens your eyes and the actors were very talented. Kathleen Quigley (Helen Mirren) leads a normal life until her son, Gerard (Aidan Gillen) is arrested because he is involved with the IRA (Irish Repulbican Army). He is sent to prison along with countless other men and treated like a criminal for fighting for his countries rights. Kathleen's world is turned upside down and she finds her self grabbing onto Annie Higgins (Fionnula Flanagan), the mother of another imprisoned IRA fighter. When the boys go on hunger strike the mothers must decide to go agianst their son's beliefs to save their sons or let them die. Based on true events. Everyone's performance was great in this film but Fionnula Flanagan (Divine Secrets of the Ya Ya Sisterhood, Four Brothers) always stands out in her roles. She is just an amazing actress and still so beautiful at 64. I didn't think that I could dislike Aidan's Gillen's voice anymore but I was wrong. Not only was he unattractive in this role, his voice! And when ever he was in the background he had his mouth hanging open with this vaacant brain dead look on his face. Not attractive. He looked like his face was numb and he had no control of facial exspression. IRA attacks are still going on in Ireland today. Both the rebels and soldiers are being killed. Gerard says to Kathleen after killing a soldier, "He was just a soldier Ma." and Kathleen replies "He was some mother's son, just like you're mine." That was a very powerful line and that is what the movie is about. It didn't matter what side that the mothers were on the still lost a son.
Emily Bielewicz
Some Mother's Son Quotes
There are no approved quotes yet for this movie.
Discussion Forum
Discuss Some Mother's Son on our Movie forum!