Somebody Help Me
(2007)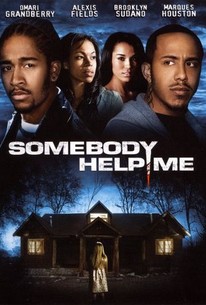 AUDIENCE SCORE
Critic Consensus: No consensus yet.
Movie Info
A weekend getaway turns unexpectedly horrific for a group of vacationing young adults when quick trips into the nearby town continually result in death. Brendan Young (Marques Houston) and Darryl Jennings (Omarion) have gathered a group of fun loving friends for a relaxing retreat into the woods, but it isn't long before these hard-partying pals are fighting for their lives. It seems as if every time they take a trip into town someone in the group ends up missing or dead. Now, with their numbers quickly dwindling, the survivors must race to uncover the gruesome truth behind this small town before everyone is dead and there's no one left to tell their tale.
Rating:
NR
Genre:
Directed By:
Written By:
In Theaters:
On DVD:
Runtime:
Studio:
Code Black Entertainment
Critic Reviews for Somebody Help Me
All Critics (1) | Fresh (1) | Rotten (0) | DVD (1)
Just the right mix of red herrings, scantily-clad coeds making ill-advised choices and macho dudes being cut down to size to keep you on the edge of your seat for the duration.

Just the right mix of red herrings, scantily-clad coeds making ill-advised choices and macho dudes being cut down to size to keep you on the edge of your seat for the duration.

Audience Reviews for Somebody Help Me
½
Great film, honestly! Not bad for a TV-Made film! Suspense filled- and stomach twisting gore! Actors were really good as well!
Rudy Gamez
A very poor, low budget made for TV horror. It has no real plot, not much is explained for the story or the reason for the killer. The acting is bad, the script even worse. Some of the characters appear and disappear just as quickly. It doesn't have many kill scenes as such. Mildly gory in a couple of scenes. Really though this is pretty bad and just about any other horror film is better than this! I can't believe it got a sequel!!
"Somebody Help Me!" quite frankly sucks. In a way I was expecting something from this flick, as it sounded cool and looked watchable. However, Somebody Help Me is just a mess of a movie which can't decide what it wants to be. There is no suspense, no memorable kills, a weak killer and brain-dead (as well as wasted) characters. Ugh, what a disappointment. The movie tells the story about two best friends and their girlfriends who head out to a cabin to celebrate one of the girlfriends' birthday. The next night, they are joined by 6 other friends for the party. Within the next 10 minutes of the movie, all 6 of them are missing, the two girlfriends go missing soon after and it's up for the two best friends to save their friends from a killer. One of the things I hated about this movie was the lack of characterization and how annoying the lead characters are. I mean, the characterization is really poor and I couldn't see the point of most of the characters as they did absolutely nothing in the movie. For instance, these 6 other friends who join the group are barely even seen. Four of them appear for around 2 minutes and then go missing, only to get killed not long after - and the other two (including a likable asthmatic) go missing off-screen and the writers just come up with an excuse of "Oh, she went to look for blah blah". Honestly, if you are going to introduce 6 characters for around 2 minutes and get rid of them straight away, only to appear for another 2 minutes and kill them off...WHAT IS THE POINT? Even the two girlfriends go missing for most of the movie, and by then I just thought it was a joke. Moving on from this, the only likable characters are the "nice" girlfriend and the asthmatic. Everyone else is annoying and the two lead male characters...well, you just can't root for them. The acting is standard, but nothing great. Marques Huston and Omarion do OK jobs but their characters are annoying and stupid, so you can't really find them likable. Jessica Szhor plays the asthmatic and does a great job, but has absolutely nothing to do except have asthma attacks and get less than 5 minutes screen time. The two girlfriends are rather good, but again don't have much to do. Everyone else is OK, but because they get minimal screen time you can't really say they did their jobs right. They hardly got any lines or screen time. The horror itself is poor. I mean, one second this movie is a slasher, the next second people are being tortured in chairs, and then the next second it feels like a supernatural movie with a little girl (turns out she's actually human...*gasps*...that's not how they made it look), then moves back to the slasher, and then back to the torture...WTF. Last time I checked this was supposed to be a slasher. Anyhow, the movie is hardly gory and not scary in the slightest. Most of the "missing" characters spend their time in cages for the rest of the movie or are strapped to a chair and tortured while "emotional" music plays...yeah, were supposed to feel sorry for a character who we saw for 2 minutes. I found those parts laughable and there are no memorable kills in the movie. In fact, seeing as this movie has quite a few characters...hardly any of them get killed! As for the killer, well he's completely weak and unscary and pops up at the most convenient times. He seems to appear just as another character turns around, and this keeps on happening again and again. The killers' back-story however, appears interesting but could have gone into a little more detail. Overall, Somebody Help Me! is a disappointment. It has a weak killer, so many dumb moments it's ridiculous, very poor characterization and just feels poor all around as it can't decide what it wants to be. Well, I'll decide for them...it's crap.
Brandan W
Discussion Forum
Discuss Somebody Help Me on our Movie forum!